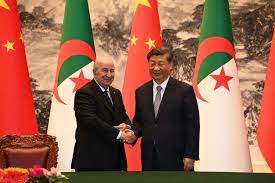 Algeria has taken a significant step in expanding its economic horizons by applying to join the prestigious BRICS group. According to reports, Algerian President Abdelmadjid Tebboune announced the country's request to join BRICS and submitted an application to become a shareholder member of BRICS Bank with a substantial amount of $1.5 billion. The move is aimed at creating new economic opportunities and diversifying Algeria's economy, which is rich in oil and gas resources.
The BRICS group consists of Brazil, Russia, India, China, and South Africa, collectively accounting for over 40% of the global population and approximately 26% of the world's economy. Algeria's interest in joining this influential alliance is driven by its aspirations to enhance partnerships, particularly with countries like China.
Algeria's vast oil and gas resources have traditionally been the cornerstone of its economy, but the nation is now actively seeking to diversify its economic base. Joining BRICS would open doors to collaboration and investment in various sectors, allowing Algeria to explore new avenues for growth and development.
"We officially applied to join the BRICS group, we sent a letter asking to be shareholder members in the bank … Algeria's first contribution in the bank will be $1.5 billion," President Tebboune confirmed.
This significant move is expected to pave the way for greater economic cooperation between Algeria and other BRICS nations. Additionally, the nation's expressed interest in joining the BRICS group is a testament to its commitment to fostering stronger global ties and boosting its standing on the international stage.
Notably, more than 40 countries have already expressed interest in becoming part of the BRICS group, showcasing the bloc's growing influence in global affairs. Countries such as Argentina, Iran, Saudi Arabia, the United Arab Emirates, Cuba, Democratic Republic of Congo, Comoros, Gabon, and Kazakhstan have all expressed their desire to join this prominent economic alliance.
Furthermore, China, which plays a pivotal role in the BRICS grouping, has also pledged substantial investments in Algeria, amounting to $36 billion. These investments are anticipated to span across various sectors, including manufacturing, new technology, the knowledge economy, transportation, and agriculture.
As Algeria takes this significant step towards deeper global engagement and economic diversification, its inclusion in the BRICS group and investment partnerships with China are poised to have a transformative impact on its future growth trajectory.
Sources By Agencies