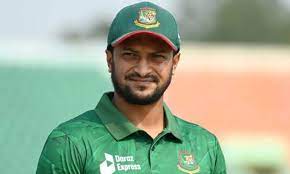 Bangladesh's cricket sensation Shakib Al Hasan has made a significant foray into politics, officially signaling his intent to contest in the upcoming general elections on January 7 by seeking nomination from the ruling Bangladesh Awami League. The cricket maestro has taken nomination forms to potentially contest in three constituencies in the election, according to Awami League joint secretary general Bahauddin Nasim.
Nasim warmly welcomed Shakib's entry into politics, citing his immense popularity among the nation's youth. However, Shakib's candidacy awaits confirmation by the ruling party's parliamentary board, headed by Prime Minister Sheikh Hasina. The cricket star eyes a seat either in his home district of Magura or in the capital, Dhaka.
The election is marred by a boycott from major opposition parties. Sheikh Hasina, who has led the country for 15 years, faces accusations of authoritarian governance. Despite criticism, her return to power seems likely, given the opposition's intent to boycott.
Shakib's transition to politics follows the path of former cricket captain Mashrafe Mortaza, who ventured into politics in 2018, securing a lawmaker position under the ruling party. Mortaza's shift from cricket to politics took place after leading Bangladesh in the 2019 World Cup.
Amidst his political aspirations, Shakib is currently sidelined due to a finger injury, missing the upcoming Test series against New Zealand. His injury, sustained during a World Cup match against Sri Lanka, added another chapter to his cricket legacy when an unprecedented appeal against Angelo Mathews resulted in cricket's first-ever timed out.
In South Asia, cricketers entering politics isn't uncommon, yet Shakib's pivot during his active cricket career marks a rare and notable transition from the cricket pitch to the political arena.
Sources By Agencies