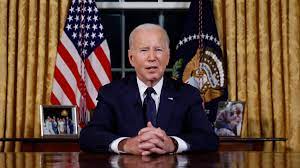 President Biden's Vigorous Address
In a compelling prime-time speech from the Oval Office, President Joe Biden delivered a powerful message, equating the dangers posed by Hamas and Russian President Vladimir Putin as attempts to "annihilate" neighboring democracies. He passionately made the case for providing vital assistance to Ukraine and Israel, asserting that this assistance is integral to U.S. interests.
A Common Objective of Destabilization
Biden, in his address to the nation, highlighted that while Hamas and Russia represent different threats, they both share a common goal – the complete destabilization of neighboring democracies. He stressed the need for unity and resolute action to counter these threats.
"We can't let petty partisan angry politics get in the way of our responsibility as a great nation. We cannot and will not let terrorists like Hamas and tyrants like Putin win. I refuse to let that happen," President Biden declared in his televised address.
Massive Funding Proposal for Ukraine and Israel
President Biden revealed his intention to seek approval from Congress for substantial funding to aid Ukraine and Israel. He framed this as an investment in the future of the United States as a global leader, emphasizing its significance for American security and global stability.
"It is a smart investment that's going to pay dividends for American security for generations," Biden underscored. He presented this proposal in just the second speech from the historic Resolute Desk during his presidency.
Biden emphasized the pivotal role that American leadership, alliances, and values play in maintaining global stability and making the United States a valued partner on the world stage.
Support for Ukraine and Israel
The White House is reportedly preparing a significant funding request to Congress, which could amount to $100 billion. This package is expected to include financial assistance for Israel in its ongoing conflict with Hamas, as well as support for Ukraine in its struggle against Russian aggression.
By linking these two conflicts that are geographically distant from the United States, President Biden aims to underscore their role in a broader struggle to shape the world order and safeguard Americans at home.
A Somber Oval Office Setting
Presidential addresses from the Oval Office traditionally signify moments of great national significance. President Biden's previous address from this esteemed location was in June when he celebrated a congressional deal that averted a catastrophic U.S. debt default.
However, the current political climate presents unique challenges. Congress has been gridlocked for over two weeks due to divisions among Republicans, who control the House, particularly concerning the election of a House speaker.
Geo-Political Significance
Biden's approach seeks to highlight the geo-political significance of these two conflicts and how they intersect with American interests. The impending funding request to Congress includes $10 billion in emergency assistance for Israel and $60 billion to support Ukraine.
Sources By Agencies