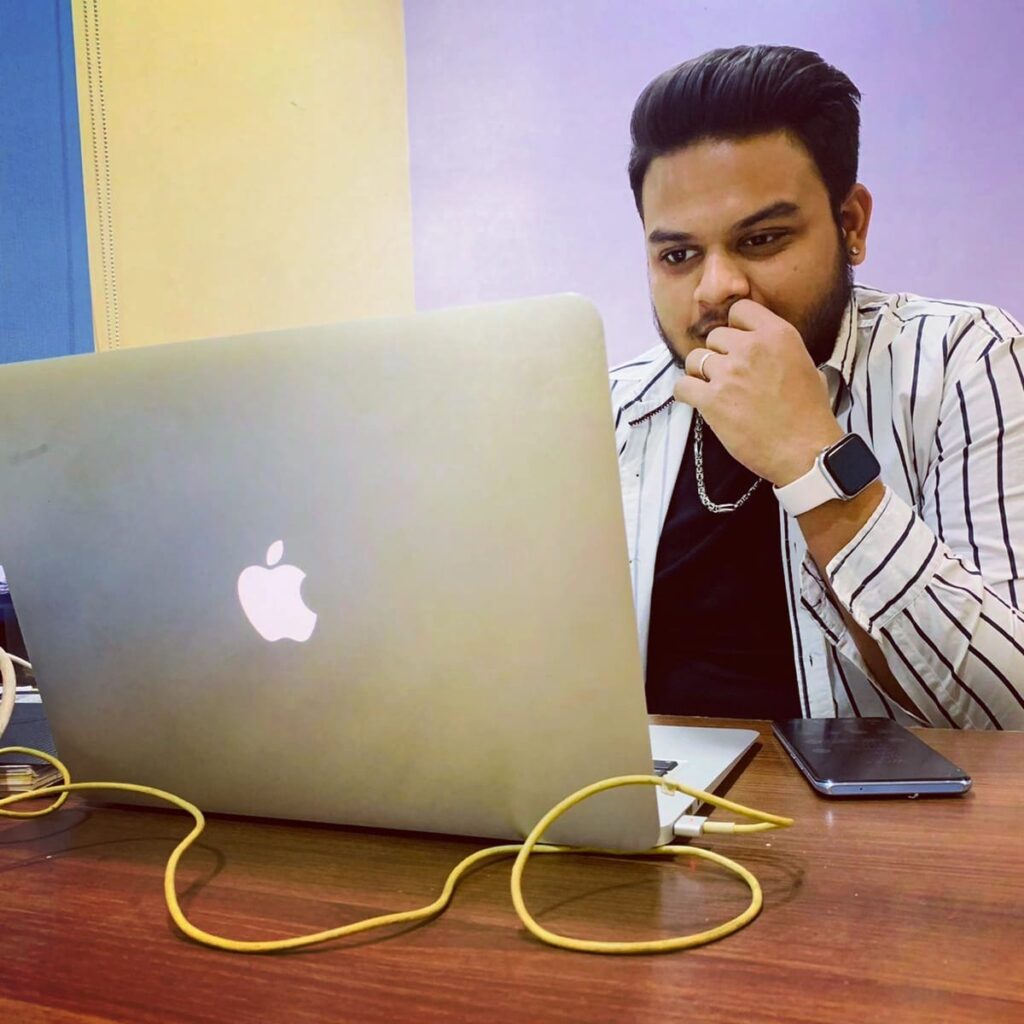 When his parents were compelling him to join a college; He was preparing to launch his one. This is CHAITANYA VERMA from Muzaffarpur, Bihar. A typical small-minded place where people at all social levels only care about succeeding in engineering and medical.
TRANSFORMATION
Not coming from a business background family yet he has achieved and adopted a lot from digital as well as the local markets. While creating and running three startups- MCHERS MEDIA, SAKI PRODUCTIONS, and THE BIG DADDY CHEF he has been also involved in SHAREs and CRYPTOs market having more than ONE AND a HALF MILLION INR in his portfolio and also plan to launch different franchises.
ACTION PLAN
He has a simple action method "Making plans accurately doesn't give real results but executing it does." He has initiated his journey back in 2018 as a content writer then in 2020 he launched his first startup as MCHERS MEDIA with his partner. This was the only marketing house which was dealing in wholesome branding for small businesses at the time when there were hardly any digital marketing agencies in the limelight. After Mchers, he launched his own production house- Saki productions which focus on Enhancing the real art and local artist to upgrade their level and better bring out themselves internationally and for the creation of their own Community so that the culture can be interchanged and together they can create something rare. And the third one is composed of India's first Street food chain with a premium ambience and more focus on LOCAL food items and tastes which is named as The Big Daddy Chef. Apart from startups, he has been involved in partnering with different Franchisees; just for example- Chai Sutta Bar in Sitamarhi, Fashcart in Muzaffarpur, Haldirams in Motihari(Proposed), Indian oil Station in Khajuwala near Bikaner Rajasthan.
VISION
He literally has an aspiring and competitive vision as for 20 years old. He is always passionate to be a part of different world business forums as he loves to influence through his own art of conveying things. Distant from owning the traditional line of business now he is working on innovative startup ventures like his other Startup is all about making the ear perfect which more focuses on clearing the sound pollution around the human aura and keeping the ear as well as the Mind more peaceful and profound. Now the very next step is all about launching his own Brand for organic edible products; Direct from farms. He aims to launch his own NGO which focuses on making THE PEOPLE capable of doing the shits on their OWN and granting them more and more liberty from everything whether that's Finance, Academics, Technical, Spirituals or anything.
 Being an INVESTOR AND MULTIPRENUER Chaitanya has a line of thought for everyone who is struggling in their field of work- "Either do something with passion and honesty or don't give a damn for that".
Instagram : https://instagram.com/chaitanya_vermaa