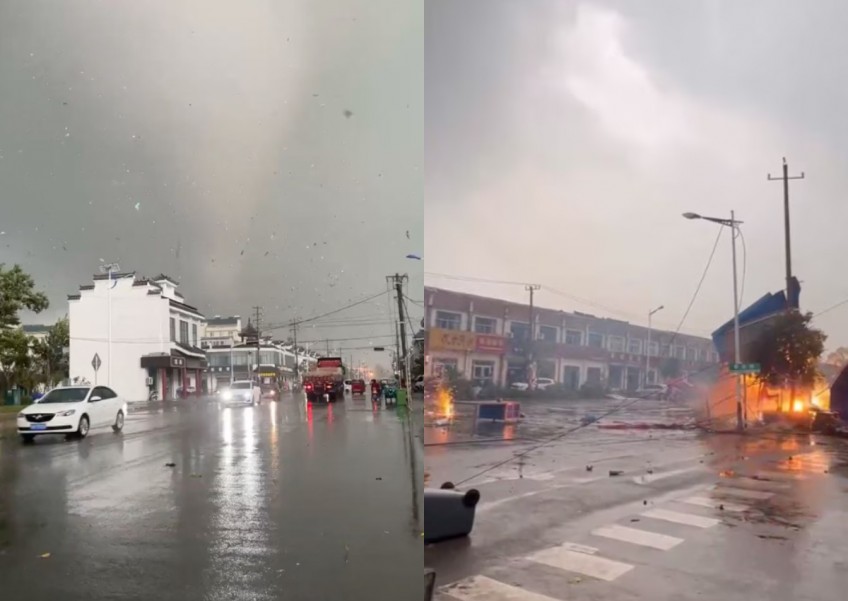 Chinese meteorological authorities have issued heightened weather warnings across several regions, emphasizing the need for vigilance against heavy rain and strong winds. This comes in the wake of a devastating tornado that struck the eastern province of Jiangsu, resulting in one fatality and several injuries.
The tornado, which occurred on Tuesday, was characterized by its brevity and intensity, leaving a trail of destruction in its wake. Social media images from the affected areas depicted overturned cars, downed power lines, and flying debris, which littered the streets of Suqian, a city located in northern Jiangsu.
"I was at the door and witnessed the wind, solar energy devices, and trees flying in the air," recounted one user on the popular social media platform Weibo. "For those two minutes, I was dumbfounded."
According to broadcaster CCTV, one person lost their life, and three others sustained injuries in the tornado. Additionally, 52 homes were damaged as a result of the fierce winds.
In response to this incident and the ongoing extreme weather patterns in the country, Chinese weather officials have expanded their warnings to encompass various regions. These warnings extend to the southwestern region of Chongqing, multiple areas in southwestern Guizhou, southern Hunan, eastern Anhui, and central Hubei.
China has been grappling with severe weather events in recent weeks, primarily stemming from the remnants of Typhoon Haikui. Torrential rain has battered the southeast of the country, leading to extensive evacuations, landslides, and tragic fatalities.
The intensified weather warnings underscore the urgent need for residents and authorities to remain vigilant and prepared for the unpredictable weather conditions that have become increasingly common. As the nation continues to face the challenges posed by these natural disasters, it remains critical to prioritize safety and disaster preparedness.
Sources By Agencies