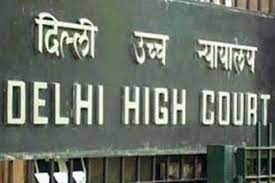 The Delhi High Court has taken cognizance of a plea filed by one Girish Bhardwaj, seeking to prohibit the use of the acronym 'INDIA' (Indian National Developmental Inclusive Alliance) for the opposition alliance in the upcoming Lok Sabha elections in 2024. A bench consisting of Chief Justice Satish Chandra Sharma and Justice Sanjeev Narula issued a notice to the Centre, the Election Commission of India (ECI), and the 26 opposition parties involved in the alliance.
The petitioner, Girish Bhardwaj, alleges that the use of the acronym 'INDIA' by the opposition parties creates confusion in the minds of the common people. He contends that it may lead people to believe that the upcoming general election will be fought between political parties or alliances versus the country itself. He further claims that the respondent political parties want to take undue advantage of the name of the country for their electoral gains.
The opposition alliance 'INDIA' was announced by the leaders of 26 parties to challenge the Bharatiya Janata Party (BJP) in the 2024 Lok Sabha elections.
In his plea, Bhardwaj also highlights that the opposition parties are using the national flag as the logo of their alliance, which he considers a strategic move to attract sympathy and votes from innocent citizens. He raises concerns that this could potentially lead to political hatred and violence.
Moreover, the petitioner argues that the use of the 'INDIA' acronym by the opposition alliance is a malicious intent, which may harm the goodwill of the nation both domestically and on international platforms.
Bhardwaj had previously sent a representation to the Election Commission of India on July 19, urging them to take necessary action against the alliance for using the 'INDIA' acronym. However, according to the plea, the ECI has not taken any action or condemned the use of the acronym despite the representation made by the petitioner.
The Delhi High Court bench has scheduled the matter for further hearing in October, indicating that the plea requires careful consideration and a detailed examination of the concerns raised.
As the case progresses, it will be interesting to see how the court weighs the petitioner's claims and the arguments put forth by the opposition parties in response. The outcome of the hearing could have implications for the political landscape in the country and the use of national symbols in electoral campaigns.
Sources By Agencies