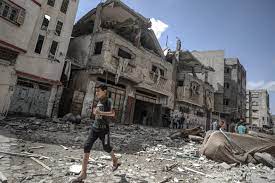 Gaza, the Palestinian enclave home to 2.3 million people and under continuous conflict, is now grappling with a dire electricity crisis. The region lost all mains electricity after its sole power station ran out of fuel, forcing it to shut down, according to reports from Hamas media sources and Reuters.
This power outage leaves the residents of Gaza heavily reliant on generators, assuming they have the necessary diesel to run them, to power essential infrastructure. Meanwhile, Israel's missile attacks on the Palestinian territory further compound the challenges. With the loss of electricity, Gaza faces issues like a lack of running water, inoperative elevators, and the inability to charge mobile phones.
Jalal Ismail, the chief of the Gaza Energy Authority, warned earlier that the power plant was running low on fuel. Shortly after the warning, the only power plant in the Gaza Strip ceased operation, plunging the region into darkness.
"It is very difficult – we don't have water… internet… electricity," shared Kamal Mashharawi, a resident of Gaza. He emphasized the dangers of daily life in a war-torn environment, stating, "We tried to go to the nearest supermarket but it was unsafe because of explosions." He also expressed his belief that civilians should be spared from the conflict's consequences.
The electricity shutdown in Gaza raises concerns of an escalating crisis, especially as hospitals struggle to provide medical care for thousands injured in Israel's relentless aerial strikes. In the face of this dire situation, medical supplies, including oxygen, are running low in several hospitals, including Gaza's overwhelmed Al-Shifa hospital.
Israel had imposed a "complete siege" on Gaza earlier in response to a brutal terror attack by Hamas operatives. The attack involved an estimated 1,500 gunmen storming the heavily fortified border and resulting in hundreds of casualties. In retaliation, Hamas launched thousands of rockets towards Israel, challenging the famed 'Iron Dome' defense system.
The ongoing conflict has taken a significant toll, with nearly 4,000 people dead on both sides and thousands more injured. Furthermore, Hamas has taken around 150 hostages, including children and foreign nationals, while issuing threats of execution in response to Israeli airstrikes on Palestinian homes. So far, four hostages have reportedly lost their lives, though they were killed during Israeli air strikes.
Israel has amassed forces, tanks, and heavy armor around Gaza as part of its retaliatory operation against what Prime Minister Benjamin Netanyahu described as "an attack whose savagery… we have not seen since the Holocaust." However, a ground offensive appears to have been postponed after rocket strikes from the Lebanese terror group Hezbollah raised concerns about a two-front war for Israel.
Sources By Agencies