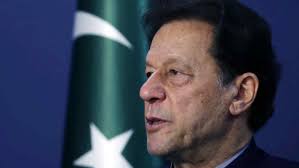 Imran Khan, the chief of Pakistan Tehreek-e-Insaf (PTI), has unveiled his strategy in the event that his political party faces a ban. In response to questions regarding the potential impact of a ban on his electoral future, Khan confidently stated, "If they remove the party, then we will form a new party with a different name and still emerge victorious in the elections."
The statement comes amidst mounting calls for a ban on PTI following nationwide protests on May 9 and subsequent government actions against the party and its supporters. Pakistan's Interior Minister, Rana Sanaullah, had declared that banning PTI was the only solution, while Defense Minister Khawaja Asif confirmed that such a step was being considered. Even Bilawal Bhutto Zardari, Chairman of the Pakistan Peoples Party (PPP) and Foreign Minister, expressed that his party would not oppose a potential ban on PTI.
Imran Khan remains undeterred by the possibility of a ban, asserting that he would establish a new political party to contest the upcoming general elections and emerge victorious, regardless of any restrictions. He expressed confidence in his party's resilience and support base, stating that even if he were disqualified or imprisoned, PTI would still triumph.
Khan highlighted that his party's supporters remained steadfast, claiming that the national political landscape had undergone fundamental changes. Despite an ongoing crackdown by the government, which he described as attempts to intimidate PTI, Khan maintained that his party was unbroken.
The situation surrounding PTI and its potential ban continues to unfold, with political dynamics and tensions intensifying. Imran Khan's determination to adapt and persevere underscores the resilience of his political aspirations and the enduring support he enjoys. As Pakistan braces for upcoming elections, the fate of PTI and its leader will undoubtedly shape the country's political landscape in the coming months.
Sources By Agencies