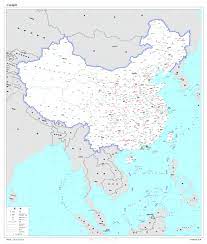 India has expressed strong objection to China's recent unveiling of its 2023 edition "standard map," which asserts territorial claims over Arunachal Pradesh, Aksai Chin, Taiwan, and the South China Sea. The move has ignited a fresh wave of controversy and diplomatic tensions between the two neighboring countries.
India lodged a formal protest on Tuesday, condemning China's claims and asserting that they lack any valid basis. The Ministry of External Affairs released a statement clarifying India's stance and criticizing China's actions. The statement read, "We reject these claims as they have no basis. Such steps by the Chinese side only complicate the resolution of the boundary question."
China's new map, released by the People's Republic of China, marks its official assertion of control over Arunachal Pradesh, Aksai Chin, Taiwan, and a significant portion of the South China Sea. This comes despite India's consistent position that Arunachal Pradesh is an integral part of the country's territory.
The Chinese state media, represented by the Global Times, posted on the social media platform X (formerly known as Twitter), explaining that the "standard map" was developed using China's interpretation of its national boundaries and those of other nations around the world.
The map's depiction of territorial claims also includes China's persistent assertion of sovereignty over Taiwan, which Beijing considers an integral part of its mainland. This stance aligns with Chinese President Xi Jinping's long-standing objective of Taiwan's integration with the mainland.
China's release of this assertive map comes just ahead of the G20 meeting scheduled to take place in New Delhi, where world leaders, including Chinese President Xi Jinping, are expected to gather. The timing adds an additional layer of significance to China's provocative move, raising concerns about its potential impact on diplomatic discussions and global relations.
Notably, in a recent interaction at the BRICS Summit in Johannesburg, Indian Prime Minister Narendra Modi had a brief meeting with President Xi Jinping. During the meeting, Prime Minister Modi highlighted India's concerns related to unresolved issues along the Line of Actual Control (LAC) – the de facto border between India and China.
Foreign Secretary Vinay Kwatra emphasized the importance of peace and stability along the border and the respect for the LAC as critical components for normalizing the India-China relationship. The two countries continue to grapple with border disputes and diplomatic challenges, making constructive dialogue all the more necessary.
As both nations navigate this renewed source of tension, the global community watches closely, anticipating the outcomes of diplomatic engagements and the potential implications for regional and international stability.
Sources By Agencies