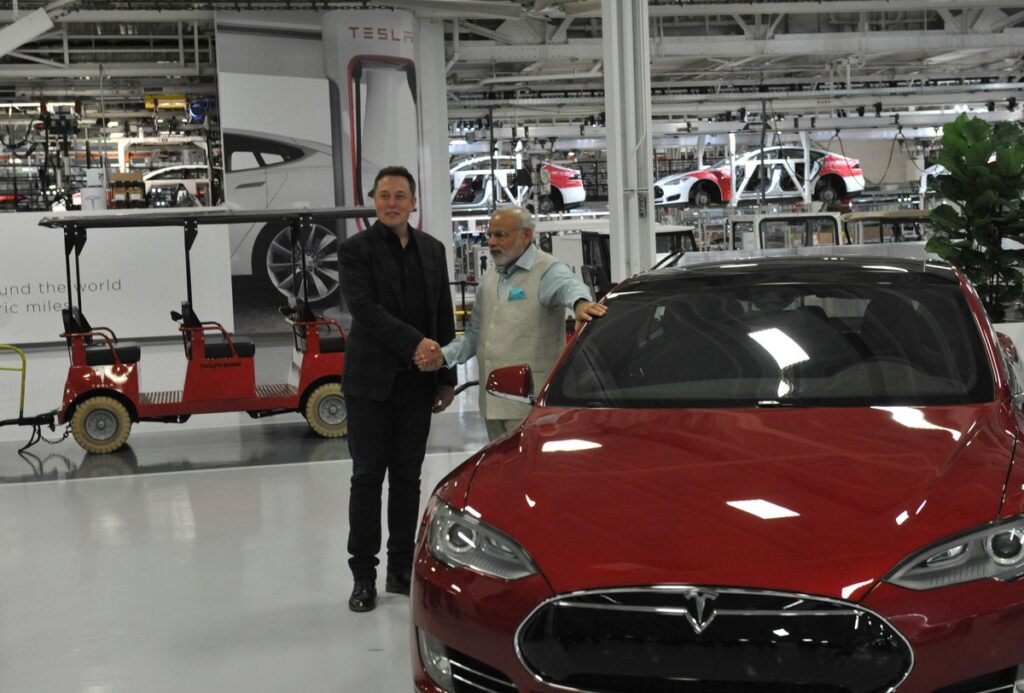 Prime Minister Narendra Modi of India is set to meet Tesla CEO and Twitter owner Elon Musk during his highly anticipated US trip, which commences today. This meeting holds significant importance as it marks the first encounter between the two influential figures since Musk gained control of the popular social media platform.
Although Prime Minister Modi previously visited the Tesla Motors factory in California in 2015, when Musk did not yet own Twitter, this meeting holds a different context. It takes place at a time when Tesla is actively exploring options for establishing a manufacturing facility in India.
In an interview with The Wall Street Journal, Musk expressed his enthusiasm for the Indian market, stating, "Absolutely." He further mentioned that Tesla is aiming to finalize a suitable location for its India factory by the end of this year. Thus, the meeting between Prime Minister Modi and Musk holds potential for discussing investment opportunities and facilitating the expansion of Tesla's operations in India.
According to government sources, the Prime Minister's visit to the United States includes interactions with over two dozen thought-leaders from various fields. This diverse group comprises Nobel laureates, economists, artists, scientists, scholars, entrepreneurs, academics, and health sector experts. The objective of these meetings is to gain insights into the latest developments in the United States and explore possibilities for collaboration.
In addition to Elon Musk, the Prime Minister is scheduled to meet other renowned personalities such as astrophysicist Neil deGrasse Tyson, economist Paul Romer, statistician Nicholas Nassim Taleb, and investor Ray Dalio. The list also includes Indian-American singer Falu Shah, author and researcher Jeff Smith, former US trade representative Michael Froman, diplomat Daniel Russel, and defense expert Elbridge Colby.
Among the notable individuals on the agenda are physician and Nobel laureate Dr. Peter Agre, healthcare expert Dr. Stephen Klasko, and Indian-American businesswoman and artist Chandrika Tandon. These meetings highlight the Prime Minister's commitment to engaging with experts from various domains, fostering knowledge exchange, and exploring opportunities for collaboration.
Prime Minister Modi's visit to the United States is considered a prestigious state visit, reserved by Washington DC for the closest allies. His itinerary includes addressing a joint session of the US Congress, meetings with business leaders, interactions with the Indian expatriate community, and a state dinner at the White House with US President Joe Biden. The agenda of the trip places significant emphasis on strengthening trade and defense ties between India and the United States.
As the Prime Minister embarks on this landmark visit, his meeting with Elon Musk, a visionary entrepreneur who has revolutionized multiple industries, holds immense potential for fostering economic growth, technological advancements, and sustainable development in India.
The world eagerly awaits the outcomes of these high-profile interactions and the subsequent impact on the bilateral relations between India and the United States, as well as the growth of Tesla's presence in the Indian market.
Sources By Agencies