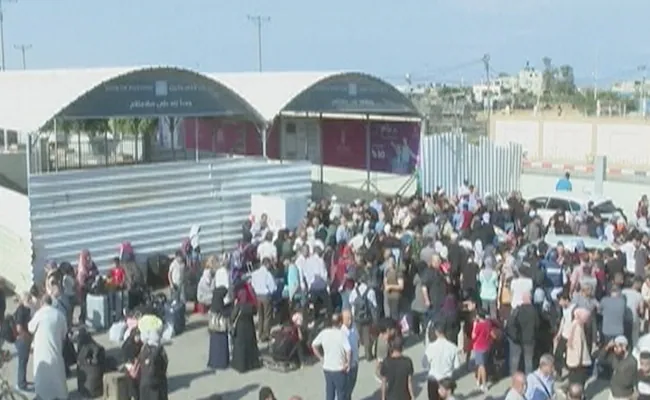 As hundreds of people wait at the Rafah border crossing between Egypt and the war-ravaged Gaza Strip, Israel has refuted reports suggesting a ceasefire agreement that would allow Gaza residents to seek refuge in Egypt. Israel's Prime Minister Benjamin Netanyahu's office categorically denied any such ceasefire plan.
This development follows reports that Israel, the United States, and Egypt were negotiating a ceasefire, with the understanding that Israel would temporarily halt its military offensive while Egypt opened the border crossing to enable the evacuation of Gaza civilians.
Since the outbreak of Hamas attacks in Israel the previous weekend, resulting in the deaths of 1,300 people, Israel has intensified its assault on Hamas in Gaza. The densely-populated Strip has borne the brunt of airstrikes that have claimed the lives of approximately 2,670 individuals. Tel Aviv is now preparing for a ground offensive with the objective of freeing hostages held by Hamas and targeting the leaders responsible for planning the attacks.
Gaza is a narrow piece of land with the Mediterranean Sea to the west, Israel to the east and north, and Egypt to the southwest. It has two exit points – the Erez Crossing into Israel and the Rafah Crossing with Egypt, as it lacks an airport. Israel controls its airspace and territorial waters.
The international community has expressed growing concerns about the human toll of the conflict in Gaza, a territory inhabited by around 2 million people. Israel had previously instructed residents of Gaza City to move towards the southern part of the Strip to avoid becoming caught in the crossfire. However, the UN voiced its opposition to the mass relocation order, citing the "devastating humanitarian consequences" that such a mass movement could entail.
Following the Hamas attacks, both the borders to Israel and Egypt were sealed, leaving Gaza residents with no means of escape.
Earlier, NBC News had reported that the Rafah crossing might briefly open to allow foreign nationals to exit into Egypt. US Secretary of State Antony Blinken noted that he had discussions with Egypt's President Abdel Fattah El-Sisi regarding the reopening of the Rafah crossing for humanitarian aid to reach the people in Gaza.
However, there is limited clarity regarding when the border crossing will reopen. The US Embassy in Israel has cautioned that residents seeking to leave Gaza through the Rafah crossing may receive "very little notice" if it becomes operational.
Sources By Agencies