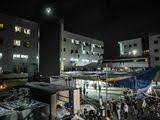 In a dramatic overnight military operation, Israeli forces stormed Gaza's largest hospital, Al-Shifa, intensifying the deadly conflict with Hamas. The operation, labeled "precise and targeted" by the Israeli army, targeted Hamas operatives allegedly using the hospital as a command center.
The raid involved dozens of Israeli forces, some firing into the air, as they entered the hospital complex. A soldier ordered all men aged 16 and above to raise their hands and exit the building towards the courtyard. The military's claim of precision targeting against Hamas contradicts the accounts of witnesses who described chaotic conditions inside the hospital, with patients and displaced individuals caught in the crossfire.
Conditions within Al-Shifa were reported as horrific, with medical procedures conducted without anesthesia, families lacking essential supplies, and the pervasive stench of decomposing corpses. Witnesses reported Israeli tanks rolling into the hospital complex, with troops entering various wards, including the maternity section recently struck by a missile.
The Israeli army, in a statement, defended the operation as an effort to neutralize Hamas activities within a specific area of the hospital. They also claimed to have delivered essential supplies, including incubators and baby food, during the operation.
Gaza's Hamas government condemned the raid as a "war crime and crime against humanity," while Israel maintained its position that Al-Shifa was being used by Hamas as a strategic hub. The White House supported Israel's claim, asserting that US intelligence confirmed the presence of a "command and control node" under the hospital.
The United Nations expressed concern for the approximately 2,300 people inside Al-Shifa, including patients, staff, and displaced civilians, who may be unable to escape due to the ongoing conflict. The Hamas-run health ministry reported 40 deaths in Al-Shifa on Tuesday alone, with the hospital director revealing that 179 bodies had been interred in a mass grave within the complex.
As the conflict in Gaza continues to escalate, international voices are urging a cessation of hostilities and the protection of civilian spaces, emphasizing the need for a diplomatic resolution to avoid further loss of life.
Sources By Agencies