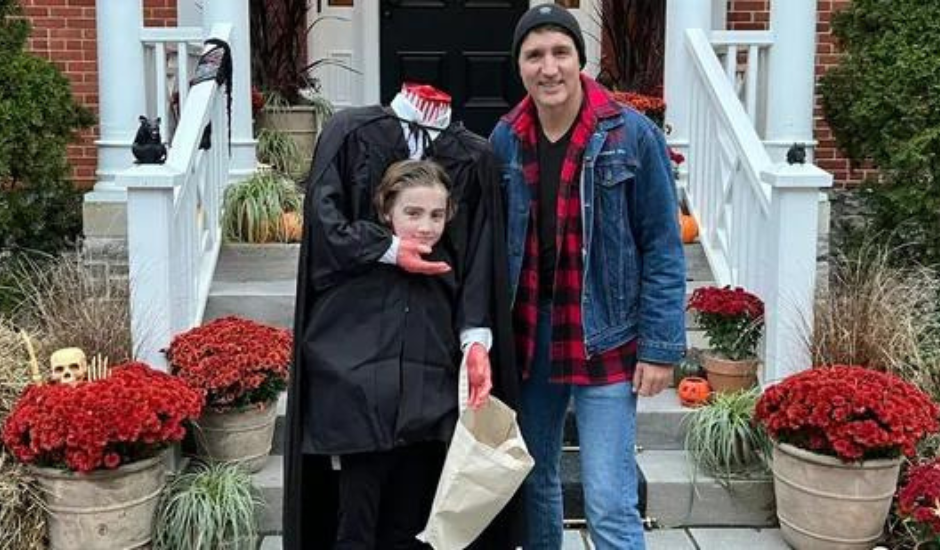 Canadian Prime Minister Justin Trudeau has come under fire for his son's Halloween costume choice, which many have deemed as tone-deaf and insensitive given the ongoing conflict in the Middle East. As the Israel-Palestine conflict continues, with casualties including multiple children, Trudeau shared photos on social media featuring his son in a headless costume.
The Halloween photos were accompanied by a caption from Justin Trudeau: "Hadrien seems to have misplaced something… but that's not going to stop him from trick-or-treating. Happy Halloween, everyone – have fun out there!"
The timing of the post and costume choice has triggered criticism from various quarters, with individuals expressing their concerns about the appropriateness of the Halloween costume during a time of international conflict and tragedy. Many users on social media questioned whether such a costume was suitable, given Trudeau's global awareness and his commitment to issues like feminism and social consciousness.
Some of the comments on Justin Trudeau's post included statements such as, "Do you honestly think this was a good idea with what's going on in the world?" and "For someone keenly aware of current global issues, who describes himself as a feminist and woke, there should have been a talk like 'Is this appropriate, considering my position and what's going on in the world?'"
Others called the costume "dark" and "tone-deaf," highlighting the importance of timing and sensitivity during such a critical period. The choice of a headless costume, while unrelated to the ongoing conflict, was criticized as being in poor taste, with some users expressing their shock and disappointment.
The controversy surrounding this Halloween costume incident highlights the challenges public figures face in maintaining sensitivity to global issues and events. Justin Trudeau has not yet publicly responded to the criticism.
As the Middle East conflict continues to unfold, discussions around the appropriateness of public figures' actions and statements in relation to international crises remain an important topic of debate.
The views and opinions expressed in this article are not necessarily reflective of the stance held by the publisher.
Sources By Agencies