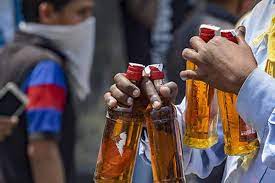 The cost of alcoholic beverages, including beer, is set to rise in Karnataka as the state government proposes an increase in excise duty rates. The Congress-led government presented the proposal in the 2023-24 budget, delivered by Chief Minister Siddaramaiah in the Legislative Assembly on Friday.
As the Finance Minister, CM Siddaramaiah outlined the budget's plan to raise the existing excise duty rates on Indian Made Foreign Liquor (IMFL) by 20 percent across all 18 slabs. Additionally, a 10 percent hike in duty on beer was proposed, raising the rate from 175 percent to 185 percent.
CM Siddaramaiah, in his budget speech, assured that despite the proposed hike, the price of liquor in Karnataka would remain lower than that in neighboring states. The Karnataka Budget 2023-24 sets a revenue collection target of Rs 36,000 crore for the Excise Department. The government aims to achieve this target through the implementation of the duty hikes, along with effective enforcement and regulatory measures.
The increase in excise duty rates on alcohol is expected to impact consumers in Bengaluru and other parts of Karnataka. The move aims to bolster revenue generation for the state and ensure effective regulation of the liquor industry. The budget's revenue targets demonstrate the government's intent to strike a balance between meeting fiscal requirements and maintaining a competitive pricing structure compared to neighboring states.
The proposed hike in excise duty rates on IMFL and beer reflects the government's focus on optimizing revenue sources and implementing measures to curb excessive alcohol consumption. The additional revenue generated through these duty hikes is expected to contribute significantly to the state's finances and support various developmental initiatives.
It is important to note that the budget proposal will need to undergo the legislative process and receive approval before implementation. The actual impact on consumers' wallets will depend on the final decision and subsequent enforcement of the proposed excise duty rates.
As the proposed price hike on liquor looms, consumers and businesses in the alcohol industry will closely monitor developments and assess the implications for their budgets and operations. The potential impact on consumer behavior and the overall market dynamics within the state's liquor sector will be closely observed.
Sources By Agencies