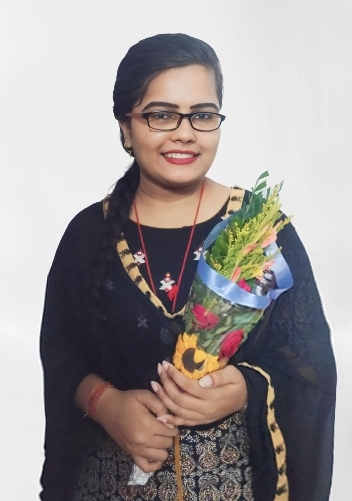 In a world where dreams take flight on the wings of passion, there exists a luminary who weaves tales with ink and kindles fires with her words. Miss Jyotirmayee Panda, a name that resonates with creativity and empowerment, is a young maestro hailing from the vibrant tapestry of Odisha, India. With the might of her pen and the magic of her voice, she has etched a narrative that's as enchanting as it is motivating.
Nestled in the heart of Cuttack, a city pulsating with culture, Miss Panda's journey embarks on a quest to transform aspirations into triumphs. Her accolades adorn her path, but it's her spirit of resilience and unyielding dedication that truly define her essence. Trophies, certificates, and experiences of conquering uncharted realms are the jewels adorning her creative crown.
The Muse of Motivation:
Miss Panda's voice carries the cadence of inspiration. As a motivational speaker, she doesn't just talk; she orchestrates symphonies of encouragement. Her words reverberate with a harmony that awakens dormant dreams, inviting them to dance to the rhythm of self-belief. The stage becomes her canvas, and her audience, the brushstrokes of her impact.
The Sorceress of Words:
Beyond the podium, Miss Panda wields her pen like a wand, conjuring universes through her writing. Her narratives aren't just stories; they're portals into realms of imagination. The alchemy of her words transforms ordinary sentences into extraordinary experiences, beckoning readers to venture into uncharted territories of thought and emotion.
A Galaxy of Achievements:
Miss Panda's journey is studded with achievements that mirror her dedication and expertise. The medals and honors she's earned shine like constellations in her sky of triumphs. Her world records stand as testaments to her audacity to dream and her courage to pursue those dreams against all odds.
In the Limelight and Beyond:
Miss Panda's story isn't confined to her individual successes; it's a saga that echoes as a ballad of empowerment for young women who dare to dream big. Her transition from a computer faculty member to an influential writer and motivational speaker paints the canvas of possibilities in vibrant hues. In an era where the digital realm offers new avenues, Miss Panda exemplifies the modern storyteller whose narratives resonate across borders and screens.
Miss Jyotirmayee Panda was born on May 21, 1999, in Cuttack, Odisha. She grew up in a middle-class family and faced several financial struggles during her childhood. Despite the challenges, she was determined to achieve success in her life. She completed her schooling from a government school in Cuttack and went on to pursue her +2 Science, BSc. (ITM), and Master's degree (MCA) in Cuttack.
At the young age of 23, Miss Jyotirmayee Panda has already made a name for herself in the writing industry. After completing her MCA in 2022, she used the COVID-19 period to improve her writing style gradually. Her success in winning numerous awards, certificates, and prize money from renowned writing platforms like "Story Mirror" and "Pratilipi" is a testament to her talent and hard work. She has earned more than 150 certificates from these sites, a remarkable achievement that showcases her dedication to honing her writing skills.
Miss Panda's journey as a writer began when her school teacher, Mr. Khirod Kumar Biswal, introduced her to the "Odisha Sahitya Sanskruti Parishad, Cuttack." This platform provided a space for literature and cultural discussions, exposing her to the works of senior writers. Gradually, her interest in writing blossomed, and she discovered her own potential as a writer. From the beginning she started writing Jagannath poetry which got a lot of popularity and she realized that she can be a writer too. Since then, her journey has been going on, With the blessings of God and the inspiration of all her relatives ,The support of her family, especially her younger brother "Pabitra" , All colleagues in her office"Odisha Computer Academy",With the guidance and encouragement of "Mr. Surya Narayan Rout(Managing Director,OCA)" and her well-wishers one of whom is "Mr. Pravat Kumar Dash" for whose prayers , Miss Panda embarked on a new career path as a writer.
Her writing career started on popular platforms like "Pratilipi" and "StoryMirror," where her work began to receive appreciation from readers and judges. This led to her winning multiple awards, certificates, and even prize money in a short span of time. Miss Panda's success can be attributed to her ability to connect with her readers through her impactful writing style and the inspirational themes she explores.
In addition to her achievements as a writer, Miss Panda has also ventured into the world of motivational speaking. She established her own motivational channel called "JJ Motivation," which is gaining popularity among people seeking inspiration and personal growth. Through her speeches and writings, she empowers individuals to overcome obstacles, pursue their dreams, and embrace their true potential.
Miss Jyotirmayee Panda's remarkable achievements have garnered attention and recognition both nationally and internationally. She has been honored with prestigious awards such as the
"Asia's Top 100 Influential Women Awards for Young Writer and Motivational Speaker – 2023." Her contributions to the literary world have been acknowledged with the "Bharat Vibhushan" award from the National Book of Records. She has also been featured in esteemed publications like Femmetimes Magazine, which recognized her as one of India's Top 30 Women Leaders.
Her impact has extended beyond the writing community, with numerous appearances on international and national TV channels and coverage in newspapers and magazines. Miss Panda's dedication and accomplishments have inspired countless individuals, and her story has been featured in various articles, including those published by The Entrepreneur Bytes, The Filmy Beat, and Bharat Exclusive.
With each accolade and recognition, Miss Jyotirmayee Panda continues to inspire and motivate aspiring writers and young women around the world. Her journey exemplifies the power of resilience, dedication, and staying true to one's passions. As she continues to write and empower others with her work, Miss Panda's impact will undoubtedly leave a lasting legacy in the literary and motivational landscape.
We all have hobbies and vocations that manage to give us a rebirth in an absolute distinct cosmos, which give us a breath of fresh air! Similarly, residing in the heart of this teenager, who may be young by age but no criterias limit her capabilities is a passion that has rewarded her with not only trophies and certificates, but new challenges and experiences ; both which she has managed to conquer.
Miss Jyotirmayee Panda is a powerful motivational speaker and writer from Odisha, India. Known for her excellent communication and time management skills, she is highly motivated and passionate about innovation and creative endeavors. Born and raised in Cuttack, Odisha, Miss Panda has always had an unquenchable thirst for creativity and excelled in various domains, including writing and motivating people. She has received numerous awards and accolades for her talent and skills, including several world records.
Miss Panda's success story serves as an inspiration to young women who aspire to break barriers and achieve their dreams. Her journey from being a computer faculty to a successful writer showcases the power of a determined mindset and dedicated efforts. In the digital age, aspiring writers like Miss Panda have more opportunities than ever before to showcase their talents and reach a wider audience.