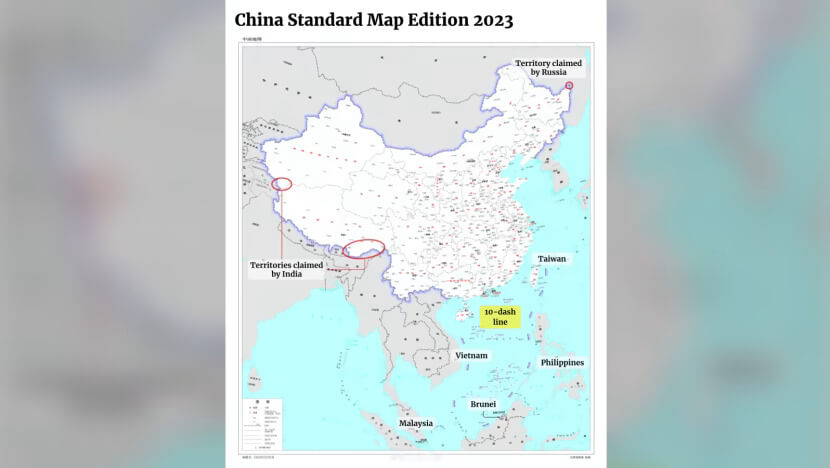 Multiple Asian nations, including the Philippines, Malaysia, Taiwan, and Vietnam, have firmly rejected China's newly released map asserting sovereignty over a significant portion of the South China Sea. This map, known as the U-shaped line, encompasses roughly 90% of the highly contested South China Sea, which serves as a critical trade route handling over $3 trillion worth of trade annually.
The Philippines has issued a stern call for China to act responsibly and abide by its international law obligations, referencing a 2016 arbitral ruling that invalidated the legal basis for the U-shaped line. Similarly, Malaysia has filed a diplomatic protest against the map.
China maintains that the U-shaped line is grounded in historical maps. However, it remains unclear whether this latest map introduces any new territorial claims. The U-shaped line extends as far as 1,500 kilometers (932 miles) south of China's Hainan island and encroaches upon the exclusive economic zones of multiple countries, including Vietnam, the Philippines, Malaysia, Brunei, and Indonesia.
The Philippine Foreign Ministry asserted, "This latest attempt to legitimize China's purported sovereignty and jurisdiction over Philippine features and maritime zones has no basis under international law."
Malaysia, in its statement, expressed that the map carries no binding authority over its territory and views the South China Sea matter as complex and sensitive.
This updated map is distinct from a narrower version presented by China to the United Nations in 2009, which featured the well-known "nine-dash line." The new map encompasses a larger geographical area and adds a 10th dash, incorporating Taiwan – a self-governed democratic island that has repeatedly emphasized its autonomy.
In response, Taiwan's Foreign Ministry firmly asserted its separate existence from the People's Republic of China, regardless of Beijing's claims.
China's move to release this map with ten dashes has stirred diplomatic tensions and disagreements over territorial claims, further complicating the situation in the South China Sea. Meanwhile, the region witnesses an escalating dispute between Chinese vessels and Vietnamese fishermen.
As China attempts to assert its territorial claims, its neighbors are standing resolute in their opposition, prompting concerns of heightened tensions and potential conflicts in the region.
Sources By Agencies