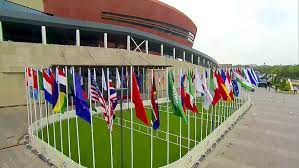 Prime Minister Narendra Modi is set to host a pivotal virtual Leaders' Summit aimed at reinforcing the commitments outlined in the Delhi Declaration, an initiative agreed upon by all members during the 18th G20 Leaders' Summit held in New Delhi.
Scheduled for tomorrow evening, this unprecedented virtual meeting holds significance as India concludes its G20 Presidency this month. Sherpa Amitabh Kant expressed that this virtual summit, expecting a comparable global leader attendance as seen in the physical meeting at Bharat Mandapam on September 9-10, is a unique endeavor, unprecedented in previous presidencies.
Kant emphasized the rarity of a post-physical summit virtual gathering, stating it as an exceptional move to translate the guidance provided by the participating leaders into actionable steps towards a just and equitable world. The primary goal remains giving impetus to implementing the comprehensive Delhi Declaration, signifying the commitment of G20 leaders to address global challenges ambitiously, inclusively, decisively, and with actionable intent.
With 83 paragraphs and 87 outcomes outlined in the New Delhi Leaders' Declaration, accompanied by 118 supporting documents, there's a significant focus on approximately 205 actionable items necessitating attention and action.
During the closure of the New Delhi G20 Summit, Prime Minister Modi announced India's commitment to hosting this virtual meeting, inviting G20 members, the Chair of the African Union, nine guest countries, and heads of 11 international organizations to partake in discussions and implementation strategies.
Union Finance Minister Nirmala Sitharaman stressed the importance of maintaining momentum on the policy guidance outlined in the New Delhi Leaders' Declaration by actively engaging with G20 nations. She reiterated Prime Minister Modi's call for a fundamental mindset shift aimed at benefiting humanity as a whole throughout India's G20 presidency year.
India's G20 Presidency, which commenced on December 1, 2022, is due to conclude on November 30, marking a transition in the top troika. India, Brazil, and South Africa will form the G20 Troika during the Brazilian G20 Presidency in 2024, with India remaining a part of this leadership structure for an additional year.
Comprising 19 countries and the European Union, the G20 represents a significant portion of global GDP, trade, and population. Notably, Spain holds a permanent guest status, while India, during its presidency, extended invitations to Bangladesh, Egypt, Mauritius, the Netherlands, Nigeria, Oman, Singapore, and the UAE as guest countries.
The upcoming virtual summit stands as a pivotal moment in ensuring the actionable implementation of the Delhi Declaration, solidifying global commitments towards a more equitable and inclusive world.
This virtual meeting is poised to reinforce India's proactive approach in steering global economic cooperation and catalyzing tangible change on the international stage.
Sources By Agencies