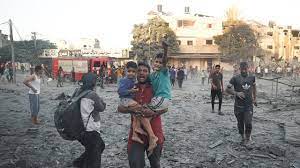 Israel's Prime Minister, Benjamin Netanyahu, has indicated that Israel would consider temporary "tactical pauses" in the ongoing conflict in Gaza to facilitate the entry of aid and the release of hostages. However, he firmly rejected the idea of a general ceasefire, despite mounting international pressure for such an agreement.
In a recent U.S. television interview, Netanyahu, whose government is committed to dismantling Gaza's Hamas rulers, expressed his belief that Israel would need to maintain security responsibility over the Palestinian enclave for an "indefinite period" following the war.
Regarding the possibility of humanitarian pauses in the fighting, which has received support from Israel's key ally, the United States, Netanyahu stated, "As far as tactical little pauses – an hour here, an hour there – we've had them before. I suppose we'll check the circumstances in order to enable goods, humanitarian goods to come in, or our hostages, individual hostages, to leave." However, he clarified, "But I don't think there's going to be a general ceasefire."
Both Israel and the Hamas operatives who control Gaza have resisted international calls for a ceasefire. Israel has insisted that hostages taken by Hamas during its attacks in southern Israel on October 7 must be released before any truce. In response, Hamas has refused to release the hostages or halt its fighting while Gaza remains under attack.
Since the start of the conflict, in which Hamas killed 1,400 people in Israel and took more than 240 hostages, Israel has conducted airstrikes, imposed a blockade, and launched a ground offensive. This has sparked global concern about the humanitarian conditions in Gaza.
The health ministry in the Hamas-controlled territory has reported over 10,022 Palestinian casualties, including 4,104 children. International organizations have stressed that hospitals are overwhelmed, and essential supplies like food and clean water are in short supply, with aid deliveries falling significantly short of the required amount.
The heads of several United Nations bodies, including U.N. High Commissioner for Human Rights Volker Turk, World Health Organization head Tedros Adhanom Ghebreyesus, and U.N. aid chief Martin Griffiths, issued a statement calling for an immediate humanitarian ceasefire. They emphasized that "enough is enough" after 30 days of conflict.
The United States, while pushing for pauses in the conflict to facilitate aid delivery, shares Israel's concern that a full ceasefire would allow Hamas to regroup. U.S. President Joe Biden reiterated his support for Israel during a recent phone call with Netanyahu, underlining the need to protect civilians.
U.N. Secretary-General Antonio Guterres has warned that Gaza is becoming a "graveyard for children" and called for an urgent ceasefire. He highlighted the dire situation in Gaza, with the Israel Defense Forces conducting ground operations and continuing bombardment, causing harm to civilians, hospitals, refugee camps, religious sites, and U.N. facilities.
The United Nations Security Council met behind closed doors on Monday to address the situation. However, reaching a consensus on a resolution remains challenging, with diplomats debating whether to call for a ceasefire, cessation of hostilities, or humanitarian pauses to allow aid access in Gaza.
Deputy U.S. Ambassador to the U.N., Robert Wood, noted that while there is concern about post-conflict developments in Gaza, discussions on this matter have not yet commenced.
In the ABC interview, when asked about the future governance of Gaza after the conflict, Netanyahu stated that he believed Israel would retain overall security responsibility for an "indefinite period" due to the consequences of not doing so.
Meanwhile, the Biden administration has informed the U.S. Congress of a plan to transfer $320 million in precision bombs to Israel, underscoring continued U.S. support for the country.
Tensions persist in the region, with Israel striking Hezbollah targets in Lebanon in response to rocket attacks on northern Israeli cities. The Israeli military reported around 30 rocket launches from Lebanon within an hour. The Iran-backed Hezbollah has been engaged in hostilities with Israeli forces along the Lebanese-Israeli border since the start of the Hamas-Israel conflict on October 7.
Hamas confirmed that it had launched 16 missiles toward Nahariyya and Southern Haifa in Israel, marking ongoing regional instability.
Sources By Agencies