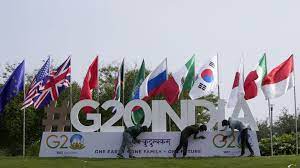 In a bid to add a personal touch to the upcoming G20 Summit, Indian Prime Minister Narendra Modi will individually welcome the leaders of all participating countries at the venue. This unique approach reflects India's commitment to hosting a memorable and productive summit.
The G20 Special Secretary (Operations), Muktesh Pardeshi, provided insights into the preparations for this prestigious event during an exclusive interview with NDTV. He revealed that Prime Minister Modi will also host a working lunch for the visiting leaders on Saturday, setting the stage for meaningful discussions.
The Bharat Mandapam, a revamped complex at Pragati Maidan under the India Trade Promotion Organisation, is set to be the summit's focal point. Two crucial sessions are scheduled at this venue on Saturday, with Prime Minister Modi expected to arrive at 9 am.
This summit will bring together over 40 delegations, including presidents, prime ministers, foreign ministers, and leaders of international organizations. Each delegation will comprise an average of 150-200 people. When accounting for security personnel, media representatives, catering staff, and others, nearly 10,000 individuals will be in attendance at Bharat Mandapam on Saturday and Sunday.
As the host nation, India has received numerous requests for bilateral meetings. Prime Minister Modi will not only chair these sessions during the summit but also greet the leaders individually on Saturday morning.
Regarding the venue for the bilateral meeting with US President Joe Biden, Mr. Pardeshi explained that it would depend on the date and time of the meeting.
The summit will also feature a gala dinner hosted by the President, set in the multi-function hall with a significant capacity. A short cultural program will accompany this event.
To accommodate the bilateral meetings, over 20 meeting rooms have been designated, with a dedicated team overseeing the necessary conferencing and logistical arrangements.
India, known for its achievements in the digital sector, aims to showcase its progress through digital experience zones at Bharat Mandapam. Visitors, including leaders, delegates, ministers, and media personnel, will have the opportunity to learn about India's achievements in digital public infrastructure, such as Aadhaar, CoWIN, and the Unified Payments Interface (UPI). The Reserve Bank of India is creating special zones to enable delegations to experience UPI without the need for prior registration.
While organizing an event of this scale poses logistical challenges, Mr. Pardeshi views it as an opportunity to demonstrate India's readiness to host mega-events, including the Olympics. He emphasized the ample parking space allocated for special aircraft at the Parliament technical area and Terminal 3.
To accommodate the influx of visitors, a three-day holiday has been declared from September 8th to 10th, with Saturday and Sunday already designated as off days. This decision aims to ease traffic congestion due to the arrival of numerous convoys from the airport.
Regarding accommodations, India has facilitated the blocking of sufficient rooms, and the list has been shared with embassies. Hotels are working closely with embassies to ensure that the dietary requirements of delegations are met.
As for the arrival of dignitaries, Mr. Pardeshi noted that a protocol is in place, and specific details depend on the timing of their arrivals. High-ranking officials from the Ministry of External Affairs will be present, with the presence of ministers subject to various factors.
The G20 Summit, with its personalized welcomes and discussions, promises to be an important and memorable event on the global diplomatic calendar.
Source: NDTV