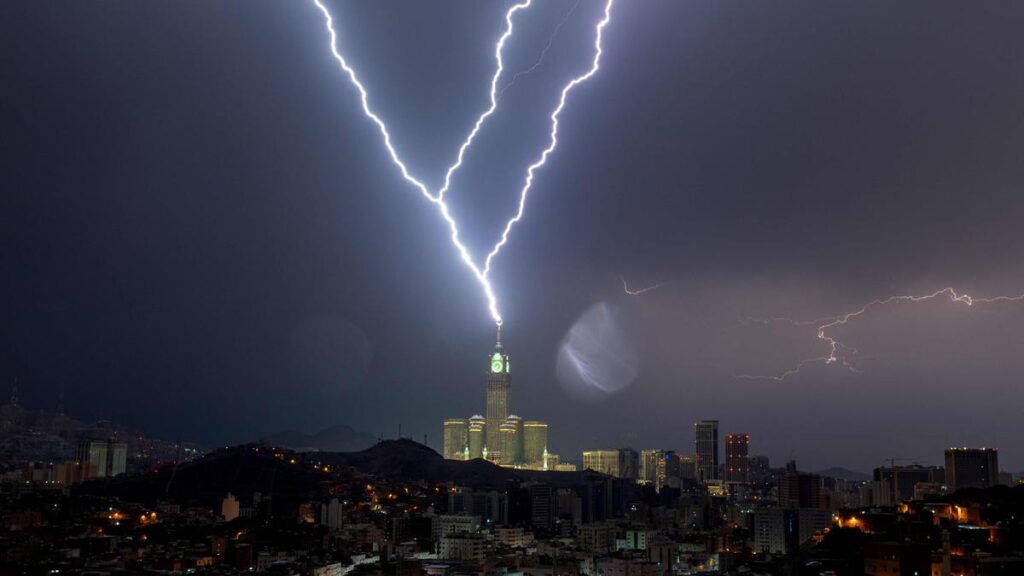 Makkah, a holy city known for its sacred significance, was struck by a forceful thunderstorm that brought heavy rain and lightning, prompting pilgrims to seek shelter and leading authorities to temporarily close schools due to the unpredictable weather conditions. The Saudi Press Agency reported that the city experienced intense rainfall accompanied by thunderstorms across different neighborhoods of Makkah Al Mukarramah.
In response to the turbulent weather, education officials took the precautionary step of ordering schools to remain closed on the following day. The National Centre of Meteorology predicted a continuation of moderate to heavy thunderstorms, warning of torrential rains, hail showers, and strong winds that could stir up dust and sand. This forecasted weather pattern was anticipated to impact various regions, including Jazan, Asir, Al Baha, Makkah, and Madinah.
Social media platforms were inundated with videos capturing the impact of the storm. Pilgrims at the Grand Mosque were seen braving the elements, struggling to complete the customary circling of the Kaaba amid powerful winds. Some even had to navigate around separation barriers that were dislodged by the force of the storm.
One particularly widely shared video depicted a dramatic lightning strike on the city's famed clock tower, an iconic landmark that overlooks the Kaaba. The bolt of lightning illuminated the night sky, a testament to the intensity of the storm's electrical activity. Meanwhile, other videos showed the aftermath of the heavy rainfall in nearby Jeddah, where flooding wreaked havoc, reminiscent of a similar occurrence the previous year.
This recent event brings to mind the challenges that adverse weather conditions can pose to Makkah's residents and pilgrims alike. Notably, last year's wet weather resulted in flooding within the city, causing damage and even washing away cars.
As Makkah and its inhabitants grapple with the aftermath of this powerful thunderstorm, the city's resilience shines through, reminding the world of the strength and unity that characterize this significant spiritual center.
Sources By Agencies