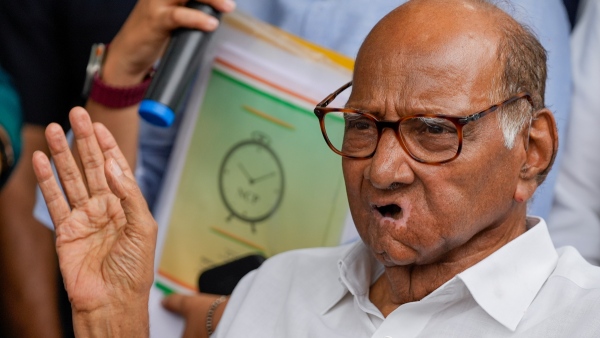 In an emotional rally held amidst incessant rain in Nashik, Sharad Pawar, the veteran politician and leader of the Nationalist Congress Party (NCP), expressed remorse and extended an apology for his recent political challenges. Pawar acknowledged that he had made an error in trusting certain individuals, leading to the split within the NCP caused by Ajit Pawar's rebellion.
Addressing the rally, Sharad Pawar stated, "I have come here to apologize. I erred in trusting some people, and I won't repeat the mistake." He refrained from blaming anyone directly and expressed openness to welcoming back rebel leaders who may wish to return to the party.
Responding to comments made by his nephew, Ajit Pawar, who referred to him as old, Sharad Pawar warned that those making remarks about his age would face consequences. He emphasized that individuals commenting on his age would have to bear heavy repercussions for their words.
Taking a swipe at Prime Minister Narendra Modi's recent speech in Bhopal, where he accused NCP leaders of corruption, Sharad Pawar challenged the PM to take appropriate action against the leaders he had accused. Pawar highlighted that PM Modi had all the resources and state machinery at his disposal to initiate such action.
The rally in Nashik, despite the inclement weather, held significant importance as it symbolized an emotional outreach from the Sharad Pawar camp to the people. The ongoing battle within the NCP to establish who represents the true essence of the party intensified over the past week. Ajit Pawar claimed to have been elected as the party's president on June 30, just two days before assuming the role of Deputy Chief Minister. However, Sharad Pawar rejected his claims and announced the disqualification of all rebels from the party during the national executive meeting in New Delhi.
Sharad Pawar emphasized that he would not contribute to escalating tensions and expressed his willingness to reconsider the situation if rebel leaders chose to return to the party. However, he acknowledged that these rebel leaders had gained significant influence and power.
Regarding the number game between Sharad Pawar and Ajit Pawar, conflicting statements emerged. Ajit Pawar claimed to have more MLAs on his side, while Praful Patel from Ajit Pawar's camp denied any split within the NCP, asserting that there was no number game at play. There were also discussions surrounding a purported statement by Praful Patel suggesting that all of Sharad Pawar's actions revolved around his daughter Supriya Sule. However, Jayant Patil refuted these claims, and Sharad Pawar pointed out that Supriya Sule had won the Lok Sabha election, whereas Praful Patel had lost and subsequently been sent to the Rajya Sabha.
Sharad Pawar concluded by urging everyone not to focus on his age and reiterated his commitment to continue leading the party. Earlier in the day, as he embarked on a state tour to rebuild the NCP, Pawar stated that he was neither tired nor retired. Recent comments made by Ajit Pawar criticizing Sharad Pawar's age and suggesting his retirement drew criticism from senior politicians.
As Sharad Pawar sets forth on his mission to rebuild and unite the NCP, the political landscape in Maharashtra remains dynamic, with the future of the party hanging in the balance.
Sources By Agencies