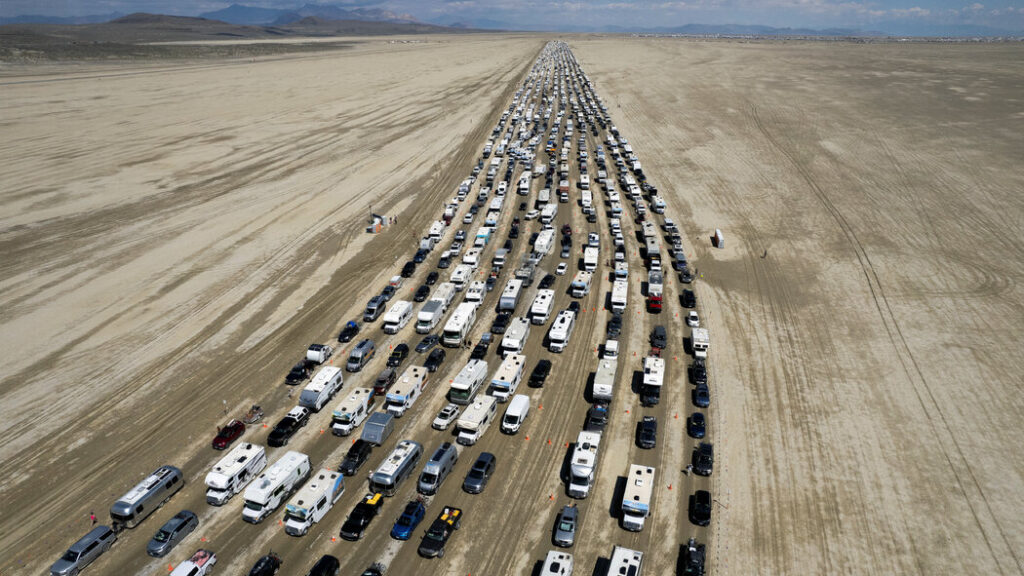 The renowned Burning Man festival, an annual gathering that draws thousands of people to the Nevada desert for music, art, and community-building, faced an unexpected twist as attendees departed the event. A massive traffic jam ensued, captured in drone footage that quickly went viral on social media.
Revellers who had enjoyed the nine-day-long music and culture festival began their exodus on Monday, contributing to the congestion. However, the departure was delayed due to continuous rainfall, reportedly the heaviest in over 30 years of the festival's history. The final approval for exit was granted on Monday, prompting tens of thousands to line up in the desert, eager to head home.
Authorities confirmed the tragic death of one person at the Black Rock Desert event, although details were scarce, and an investigation is currently underway. Organizers of the festival stated that the individual's demise was unrelated to the adverse weather conditions, according to the BBC.
Despite the challenges posed by the weather, thousands of attendees continued to revel on Sunday, even as the downpour transformed the Nevada desert into a quagmire of sticky mud. In response to these conditions, officials instructed the multitudes to take shelter in place.
The festival's traditional grand finale, the symbolic burning of an effigy, was postponed to Monday evening due to the inclement weather.
Reflecting on the unexpected turn of events, dancer and festival participant Martyna Sowa told the BBC that the conditions took her by surprise. "It was a really strange experience," she remarked. While attendees were initially informed that they wouldn't be able to leave until Tuesday, those with pressing reasons were permitted to depart earlier.
Another festival-goer, Faye, expressed her ordeal of being "covered in mud for the past three days."
Burning Man, a unique event that fosters a self-sufficient, temporary community of like-minded individuals, draws crowds to the Nevada desert every year. This year's rendition commenced on August 27, and it has evolved significantly since its humble origins in 1986 as a small gathering on a San Francisco beach. Today, it attracts celebrities and social media influencers alike, with regular ticket prices reaching $575 (approximately ₹48,000).
As the Burning Man festival wrapped up for another year, attendees departed with tales of unusual weather and traffic snarls, further adding to the colorful and unpredictable history of this iconic event.
Sources By Agencies