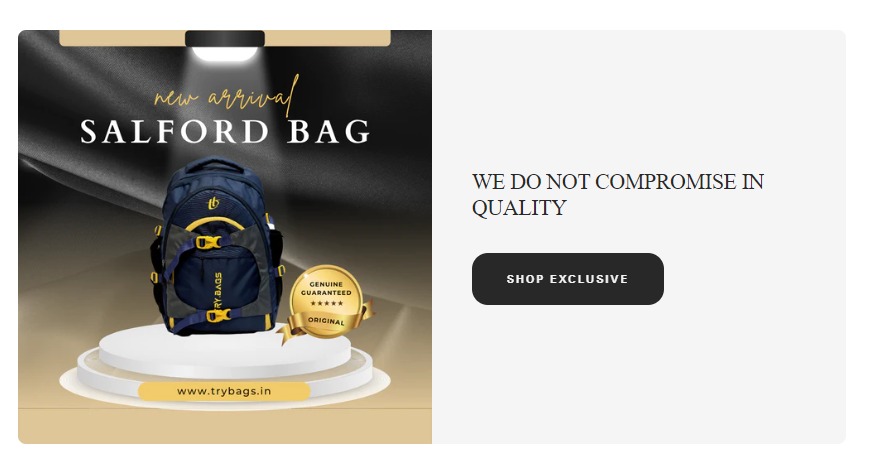 TRYBAGS is a story of ingenuity, a story that embodies the entrepreneurial spirit and heritage of Punjab, India, Established in 1987.
TRYBAGS Carry's a Brand Slogan as "Struggle with TRY", they are dealing in Backpack, duffle, rucksacks, gym bags & n number of varieties & Collection
Trybags has carved out a reputation and name for itself. There has been a strong focus on catering to the general masses with the products offered by Try bags. The brand has now become popular across India as a Stylist bag Manufacture & Supplier.
To reflect the essence of perfection, today's generation needs bags. We offer a wide selection of bags for you to choose from. They offer handbags, soft and loose totes, and shoulder bags made from nylon and polyester fabric, which are PU and PVC coated. The coating makes the bags waterproof, washable, and water repellent, so they can be used in Indian conditions. In addition, they have a line of washable cotton bags that are durable and easy to clean. Thus, they have been able to offer a wide range of multi-coloured and printed shopping bags at a reasonable price for the common man.
According to the customer's requirements, they design, develop, and manufacture almost every kind of bag. A few of the many types of bags we manufacture have been hand-picked by them. Currently, they are the leading bag manufacturer, wholesaler, supplier, and dealer in, ndia. They sell a variety of bags, including Office Bags, Tiffin Bags, Shopping Bags, School Bags, College Sacks, Travel Bags, and Duffel Bags.
TRYBAGS has provided world-class quality bags for a long time to their valued customers. Their motto is to make the best user friendly bags using the best quality materials and components.
That Believe, Creativity isn't inherited. It doesn't just belong to the paint-brush-wielders.
Or the shutterbugs, Creativity is a mind-set.
It's the way you see the world around you, it's when you stop seeing problems.
And start seeing an ocean of opportunities.
Opportunities to leave your mark. To start something you.
That's why they see endless possibilities in everyday products.