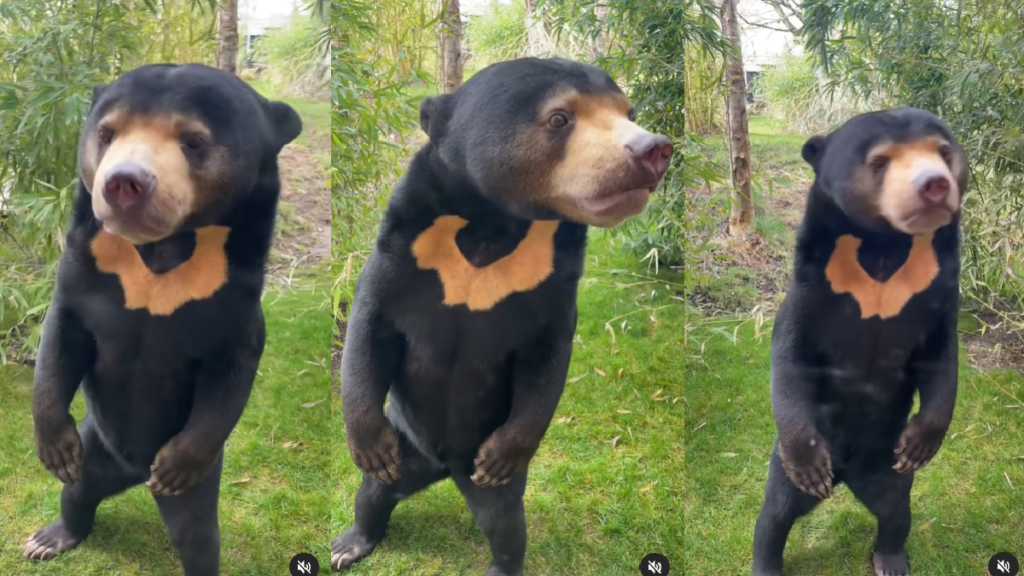 In the wake of the "human-like bear" video controversy that recently surfaced from Hangzhou Zoo in China, Paradise Wildlife Park in the UK has playfully joined the discussion by sharing a video of their own sun bear, Kyra. The Chinese zoo had been under scrutiny after a viral video raised suspicions that the bears were actually people dressed in costumes. Hangzhou Zoo has vehemently denied these claims, stating that the bears are indeed real animals.
To address the speculations and provide clarity, Paradise Wildlife Park posted a video on Instagram, showcasing their adorable sun bear named Kyra. In the short clip, Kyra can be seen walking around in a garden-like enclosure, exhibiting her natural and endearing behavior. The zoo explicitly confirmed that Kyra is, in fact, a sun bear, to put an end to any doubts surrounding the authenticity of the species.
The video, shared on August 1, quickly gained attention and appreciation from animal enthusiasts across the internet. So far, the post has garnered more than 17,000 likes and numerous comments from intrigued viewers.
Among the comments, people were captivated by Kyra's cuteness, with some expressing a desire to hug her despite knowing that it's not possible. Others marveled at the sun bear's unique appearance, noting her slender neck, which seemed to have sparked some of the initial rumors. Many commenters playfully compared the sun bear's real-life appearance to those of fictional bears they encountered in popular culture, adding humor to the discussion.
Some commenters showed knowledge of sun bear behavior, mentioning that they are skilled at walking upright to catch their favorite food. Others expressed disappointment that such misconceptions and debates still occur in an age where information about wildlife is readily accessible.
Paradise Wildlife Park's playful response showcased a charming and light-hearted approach to address the ongoing controversy surrounding the "human-like bear" videos. By sharing Kyra's adorable and genuine moments, the zoo aimed to celebrate the natural diversity of wildlife and remind people of the wonders that exist in the animal kingdom.
As the conversation surrounding the "human-like bear" continues, zoos and wildlife parks worldwide emphasize the importance of raising awareness about different animal species to foster better understanding and appreciation of nature's intricate creations.
Sources By Agencies