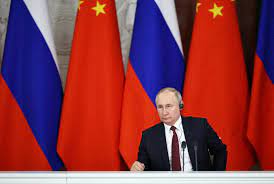 In a significant development, the United Nations General Assembly has declined Russia's bid to rejoin the UN Human Rights Council for the 2024-2026 term, a decision influenced by Russia's previous expulsion from the council following its invasion of Ukraine.
Competing against Bulgaria and Albania for two available seats designated for the Eastern Europe regional group, Russia garnered 83 votes in favor from the UN General Assembly's 193 members. The election for these positions was closely watched as it tested Moscow's assertion of having tacit support despite staunch criticism from Western nations for its aggressive actions in Ukraine.
The vote occurred just days after a Russian missile strike on the Ukrainian village of Groza resulted in the tragic loss of more than 50 lives. Despite this recent tragedy, global attention has shifted to the ongoing conflict between Israel and Palestinian militant group Hamas.
Louis Charbonneau of the international NGO Human Rights Watch remarked, "UN member states sent a strong signal to Russia's leadership that a government responsible for countless war crimes and crimes against humanity doesn't belong on the Human Rights Council."
Albanian ambassador Ferit Hoxha, whose country received 123 votes, and Bulgaria, which secured 160 votes, had previously stated that the UN General Assembly had a crucial decision to make, emphasizing the importance of not entrusting responsibilities to those who could be perceived as contributing to the problems they were meant to address.
The UN Human Rights Council consists of 47 members distributed by region, typically with each regional group pre-selecting its candidates, who are then approved by the General Assembly. However, this year, two regions had more candidates than available seats. In Latin America, Brazil, Cuba, the Dominican Republic, and Peru were competing for three seats, while in Eastern Europe, Albania, Bulgaria, and Russia vied for two seats.
The vote is conducted by secret ballot, providing a test for Russia's claim that it enjoys covert support from developing countries that may be cautious about antagonizing Western nations, given the significant financial support provided to Ukraine by Western powers.
In April 2022, 93 countries voted to suspend Russia from the Human Rights Council, with 24 opposing the move. While this vote was not as one-sided as other resolutions defending Ukraine's territorial integrity, which garnered support from approximately 140 countries, it reflected global concern over Russia's actions.
The United States, in particular, has been critical of the Human Rights Council's membership and perceived bias against Israel. Nonetheless, President Joe Biden opted to rejoin the council after his predecessor, Donald Trump, had withdrawn the United States from it.
Senior US diplomat Robert Wood expressed concern about Russia's potential re-election to the council, stating that it would undermine the institution's credibility, especially given Russia's continued involvement in war crimes and other atrocities.
Russian Ambassador to the United Nations Vassily Nebenzia countered by emphasizing that no member-state is immune to human rights violations. He called for strengthening international regulations as the solution to addressing such violations.
Richard Gowan, an expert on the United Nations from the International Crisis Group, highlighted that Western diplomats were apprehensive about Russia's potential return, given Moscow's assertion of silent support from many UN members who may hesitate to publicly back Russia.
Human Rights Watch had called on countries to oppose the candidacies of Russia, China, and Cuba. While China faced little risk due to four open seats and four Asian group candidates, the United States and other Western governments continue to accuse China of committing genocide against its Uyghur minority, a charge denied by Beijing. China secured reelection with 154 votes, while Cuba also retained its seat with 146 votes.
The decision regarding Russia's bid to rejoin the Human Rights Council underscores global concern over its actions and human rights record, emphasizing the importance of accountability and adherence to international norms.
Sources By Agencies