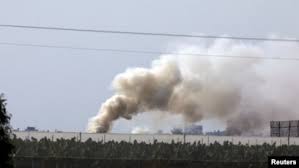 In the midst of ongoing hostilities in the Gaza Strip, the Israeli military admitted to an unintentional incident on Sunday, stating that one of its tanks had "accidentally fired and hit an Egyptian post" near the border with Gaza.
The incident occurred in the Kerem Shalom area, a location situated along the Gaza border. In response to the accidental firing, the Israeli military, known as the IDF (Israel Defense Forces), released a statement expressing its sorrow regarding the incident.
The unintentional strike on an Egyptian post underscores the challenges and complexities of the situation in the region, where heightened tensions and military operations have persisted. The incident also serves as a reminder of the need for utmost caution in an environment where precision is of paramount importance.
While the Israeli military expressed regret for the accidental incident, it highlights the need for close coordination and communication between all parties involved in the ongoing conflict to prevent such unintended consequences in a volatile and fragile region.
Sources By Agencies