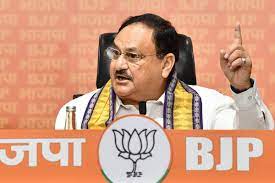 With less than a year remaining until the highly anticipated 2024 elections, both the Bharatiya Janata Party (BJP) and the opposition parties are intensifying their strategies and reaching out to potential allies. As the BJP prepares for a mega show of strength in Delhi, 38 parties have pledged their support to the National Democratic Alliance (NDA), according to an announcement made by BJP Chief JP Nadda. This significantly surpasses the 26-party alliance claimed by the Congress, giving the ruling party a psychological advantage in the run-up to the upcoming general elections.
Addressing the media, JP Nadda emphasized the growing influence and outreach of the NDA over the years. He attributed this expansion to the people's increasing desire to prioritize development agendas, which has been effectively executed under the leadership of Prime Minister Narendra Modi. Nadda highlighted the BJP's commitment to good governance, asserting that it has been a continuous process throughout the last nine years.
While the opposition had previously held a unity meet in Patna, the BJP's efforts to consolidate alliances gained momentum later on. The party has primarily focused on Bihar, where it has sought to reconcile with Nitish Kumar and bridge the gap created by the departure of Lok Janshakti Party. Additionally, the BJP aims to secure the support of Upendra Singh Kushwaha's Rashtriya Lok Samta Party, Mukesh Sahani's Vikassheel Insaan Party, and Jitan Ram Manjhi's Hindustani Awam Morcha in Bihar.
In Uttar Pradesh, where the BJP is already firmly positioned, the party has enlisted the Suheldev Bhartiya Samaj Party of Om Prakash Rajbhar as a new ally, potentially offsetting losses in Bihar. While maintaining its stronghold in Tamil Nadu and Maharashtra through key allies, the AIADMK, Tamil Manila Congress, Shiv Sena, and factions of the NCP, the BJP has also secured the support of its allies in the northeastern states.
The NPP (National People's Party Meghalaya), NDPP (Nationalist Democratic Progressive Party), SKM (Sikkim Krantikari Morcha), MNF (Mizo National Front), ITFT (Tripura), BPP (Bodo People's Party), and AGP (Asom Gana Parishad) are among the seven northeastern parties that support the BJP's governance in the region. Moreover, the BJP has welcomed new entrants such as actor Pawan Kalyan's Jan Sena and the faction of Kerala Congress led by Kerala Congress (Thomas), which recently renewed its alliance with the NDA.
The composition of the alliance reflects the BJP's strategic trajectory. While consolidating its influence in northern states, the party is actively seeking to strengthen its presence in the south, west, and northeast regions of the country. By forming alliances with parties that hold sway over backward classes and Scheduled Castes and Tribes in crucial states like Uttar Pradesh and Bihar, the BJP aims to expand its electoral base.
With the BJP's alliance gaining momentum and the opposition parties working on their own strategies, the political landscape is set for a competitive race in the 2024 elections.
Sources By Agencies