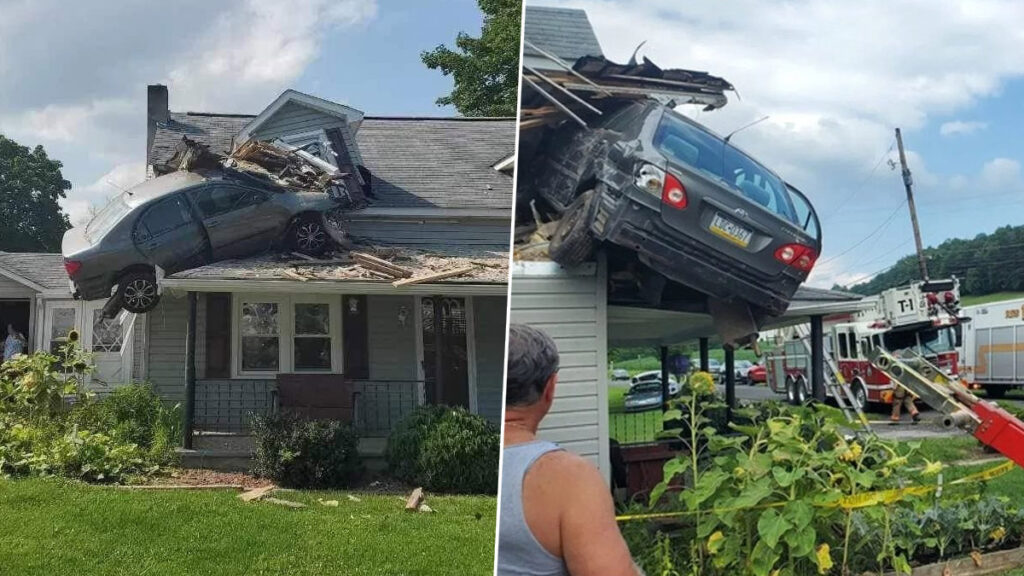 A startling incident occurred in Pennsylvania on Sunday when a car crashed into the second storey of a residential home, leaving social media users astonished as photos of the vehicle dangling from the roof went viral. The driver of the car was rushed to the hospital following the bizarre accident.
The mishap unfolded around 3:15 pm on the 800 block of Alfarata Road. According to reports from the Junction Fire Company, the driver of the car collided with a culvert near the home's driveway, causing the vehicle to become airborne and crash into the upper level of the house.
The scene was described by the Junction Fire Company on their Facebook page: "Rescue Company took in a vehicle into a structure in Decatur Township this evening. Chief 17 arrived on the scene within minutes to find one vehicle on the second floor with the patient out of the vehicle. The Rescues crew stabilized the house and helped the homeowners put a tarp on the hole due to upcoming storms. Squad 5, Truck one, engine 2 squad 2, fame ems, police and parsons towing all worked together."
Emergency personnel, including EMS crews, swiftly arrived at the site. The driver was transported to Geising Lewistown Hospital for medical evaluation and treatment.
The Junction Fire Company remained at the scene for approximately three hours, assisting homeowners in placing a protective tarp over the damaged area of the house in anticipation of severe weather conditions.
Although the exact extent of the damages caused by the crash has yet to be determined, the shocking images of the car lodged in the upper floor of the residence garnered widespread attention on social media. Users expressed their disbelief and concern, with comments such as, "Wow what the heck…they must've been flying. I hope everyone is okay," and "Wow, glad everyone is ok! Poor house." Another user extended gratitude to those who came to the aid of the homeowners, writing, "Wow, how did they get to the second floor? Thank you to everyone who helped the house owners."
The incident highlights the unexpected and sometimes extraordinary events that can occur in everyday life, sparking discussions and reactions across online platforms.
Sources By Agencies