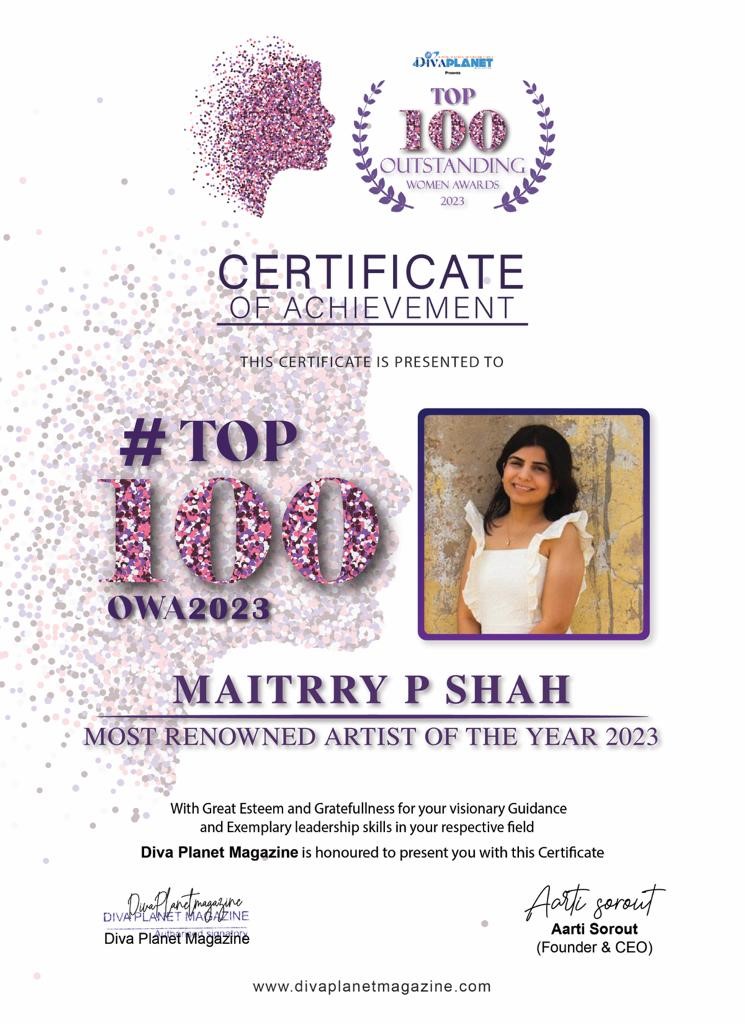 DivaPlanet's Tribute to Artistry: Maitrry P. Shah's Outstanding Achievement
In a resounding celebration of exceptional women across diverse fields, DivaPlanet, a leading platform dedicated to honoring women's achievements, proudly announces Maitrry P. Shah as the recipient of the distinguished Top 100 Outstanding Woman Awards 2023. Recognized in the category of Most Renowned Artist of the Year, this esteemed accolade lauds Ms. Shah's exceptional artistic talent, creativity, and monumental contributions to the world of art.
Visionary Artist on the Global Stage
Maitrry P. Shah has cemented herself as a visionary within the art industry, captivating audiences around the world with her exceptional artistic prowess and distinctive perspective. Through her poignant and thought-provoking creations, Ms. Shah has consistently stretched the boundaries of artistic expression, inspiring countless individuals to perceive the world through a unique lens.
A Trail of Emotions and Reflections
Maitrry P. Shah's extensive body of work reflects her remarkable ability to evoke emotions, provoke dialogue, and challenge societal norms. Her artistry ingeniously intertwines a profound understanding of human emotions with a deep exploration of cultural, social, and environmental issues. The result is a collection of visually striking masterpieces that resonate deeply with individuals from all walks of life.
"I am deeply humbled to receive the Top 100 Outstanding Woman Awards 2023 from DivaPlanet," expressed Maitrry P. Shah. "Art has been my lifelong passion, and to be recognized on such a prestigious platform is truly a dream realized. I extend heartfelt gratitude to DivaPlanet for their steadfast support of women in the arts and for spotlighting the contributions of female artists on a global scale."
Honoring Excellence and Empowerment
DivaPlanet's Top 100 Outstanding Woman Awards 2023 spotlight women who have not only excelled in their respective domains but have also left an indelible impact on society. These awards stand as champions of gender equality, aiming to acknowledge talent, inspire future generations of women leaders, and elevate their accomplishments.
"We are thrilled to present Maitrry P. Shah with the Top 100 Outstanding Woman Awards 2023 for her exceptional contributions to the art world," declared a spokesperson for DivaPlanet. "Maitrry's artistic brilliance and unyielding dedication to pushing boundaries mark her as a true trailblazer. Her work doesn't merely captivate but sparks crucial conversations, solidifying her as a deserving recipient of this esteemed recognition."
An Online Celebration of Achievements
The ceremony for the Top 100 Outstanding Woman Awards 2023 will transpire online, uniting Maitrry P. Shah with other exceptional women hailing from diverse fields. The event promises to bring together influential figures, industry leaders, and trailblazers who share a common commitment: recognizing and celebrating the achievements of women across the globe.
About Maitrry P. Shah: A Maestro in Artistry
Maitrry P. Shah stands as an illustrious artist hailing from Maharashtra, renowned for her captivating artworks that effortlessly intertwine traditional elements with contemporary expressions. Her journey has been marked by selection in numerous national and international art exhibitions. Notably, her accolades encompass three international awards in Art, thirteen national awards (including ten gold medals and two silver medals), and six state-level awards and certifications. Elevated further by an Honorary Doctorate in Fine Arts, her legacy thrives. Through her extraordinary talent and unwavering dedication to art education, Maitrry continually inspires and nurtures the next generation of artists. Delve deeper into her artistic world by visiting www.maitryshahart.com and following her on Instagram @maitrryshahart.