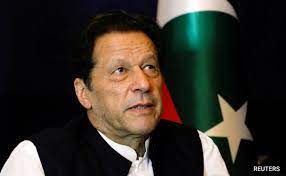 Pakistan Tehreek-e-Insaf (PTI) chairman Imran Khan, currently imprisoned on charges of corrupt practices related to state gift depository allegations, is ready to endure a lifetime in jail, according to his lawyer Naeem Haider Panjotha. Panjotha expressed concerns about Khan's treatment in Attock jail, asserting that he is confined to "poor conditions" and C-class facilities.
Highlighting the dire conditions of Khan's cell, Panjotha noted the presence of flies and bugs infesting the environment. The lawyer revealed that Khan claims the police did not present a warrant during his arrest and attempted to forcibly enter his wife Bushra Bibi's room. Khan is now seeking permission to meet his wife during his imprisonment.
In an effort to improve Khan's situation, the PTI filed a petition with the Islamabad High Court (IHC), urging a transfer from Attock Jail to Adiala Jail. The petition argues that Khan's education, habits, social and political status warrant better facilities, potentially of A-class standards. The petition references Khan's upbringing, education at Oxford University, UK, and his prominent roles as a cricket captain and political figure.
Khan's lawyer also announced the filing of an appeal against the trial court's verdict, signaling a continued legal battle. The verdict had found Khan guilty of misdeclaration of assets, resulting in a three-year jail sentence and a fine of PKR 100,000. Following his arrest, Khan was confined to Attock jail.
Speaking to the media, Khan's lawyer highlighted the challenging conditions faced by the former Prime Minister in jail. The lawyer mentioned that Khan has been provided with a small room featuring an open washroom.
As the legal proceedings unfold and concerns regarding Khan's treatment persist, his willingness to spend a lifetime in jail reflects his determination amidst the ongoing legal battle.
Sources By Agencies