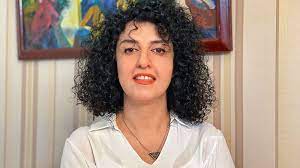 In a poignant acknowledgment of her unwavering commitment to championing the rights of women and advocating for human rights and freedom in Iran, Narges Mohammadi has been awarded the prestigious Nobel Peace Prize for 2023. Her remarkable courage and persistence have earned her a place in history as the 19th woman to receive this esteemed accolade.
The Norwegian Nobel Committee made the momentous announcement, citing Narges Mohammadi's tireless efforts to combat the oppression of women in Iran and her relentless pursuit of universal human rights and freedom. The Nobel Prize, valued at 11 million Swedish crowns (approximately $1 million), will be formally presented in Oslo on December 10th, coinciding with the anniversary of the death of Alfred Nobel, the founder of the Nobel Awards.
Narges Mohammadi stands as a prominent figure in the realm of human rights activism in Iran, a nation that has been widely criticized for its dismal record on women's rights. The country witnessed violent protests following the tragic death of Mahsa Amini, a young Kurdish woman who died while in the custody of the morality police.
Her journey towards becoming a Nobel laureate has been marked by extraordinary adversity. Mohammadi has faced arrest on 13 occasions, endured five convictions, and has been sentenced to a staggering 31 years in prison and 154 lashes. The official Nobel Prize website underscores the immense personal sacrifices she has made throughout her courageous struggle.
"Narges Mohammadi is a woman, a human rights advocate, and a freedom fighter. In awarding her this year's Nobel Peace Prize, the Norwegian Nobel Committee wishes to honor her courageous fight for human rights, freedom, and democracy in Iran," declares the Nobel Prize website.
As of now, Narges Mohammadi remains incarcerated, serving multiple sentences in a Tehran prison, including charges related to spreading propaganda against the state. Her advocacy and dedication extend beyond her own plight, as she also holds the position of deputy head of the Defenders of Human Rights Center, a non-governmental organization led by Shirin Ebadi, the 2003 Nobel Peace Prize laureate.
The Nobel Peace Prize bestowed upon Narges Mohammadi serves as a powerful reminder of the ongoing struggle for human rights and gender equality, particularly in regions where these fundamental values face significant challenges. It underscores the indomitable spirit of individuals like Mohammadi who continue to advocate for a more just and equitable world, even in the face of immense personal adversity.
Sources By Agencies