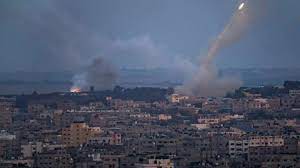 Israeli airstrikes were reported to have targeted Syria's key airports, Damascus and Aleppo, marking the first such attack since the recent Hamas assault on Israel, which ignited intense hostilities. Syrian state television relayed the news of the "Israeli aggression targeting Damascus and Aleppo airports" via the messaging app Telegram, although specific details were not provided.
Over time, Israeli airstrikes have been known to disrupt flight operations at both Aleppo and Damascus airports, both of which are under the control of the war-torn Syrian government.
These latest airstrikes occurred amid a week-long exchange of heavy fire between Hamas and Israel. The conflict escalated when hundreds of Hamas fighters breached the Gaza border into Israel on Saturday, resulting in the loss of more than 1,000 civilian lives.
Additionally, these developments coincided with the visit of US Secretary of State Antony Blinken to Israel. Furthermore, Iranian President Ebrahim Raisi, in a recent telephone conversation with Syrian President Bashar al-Assad, urged Arab and Islamic countries to collaborate in confronting Israel.
Throughout the ongoing Syrian conflict spanning over a decade, Israel has conducted numerous airstrikes on its northern neighbor. These strikes have typically targeted Iran-backed forces, Hezbollah fighters, and positions held by the Syrian army.
Israel typically refrains from providing official statements regarding individual strikes within Syria. However, the Israeli government has repeatedly emphasized its determination not to allow its regional adversary, Iran, which provides support to the Assad government, to expand its influence in the region.
Notably, Iran, a supporter of Hamas, celebrated the organization's assault on Israel over the weekend, although it officially denied direct involvement in the attack. These recent developments highlight the complex and volatile regional dynamics impacting the ongoing Middle East conflicts.
Sources By Agencies