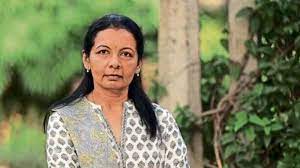 In a significant development, the Murugappa family has successfully resolved the disputes that had persisted between Valli Arunachalam, the eldest daughter of MV Murugappan, and the rest of the family members. The resolution marks an end to the prolonged disagreements over her participation on the board of Ambadi Investments, the holding company of the renowned Murugappa Group.
Sunday witnessed the culmination of discussions concerning a family arrangement between the factions involved. These talks were conducted under the guidance of respective advisors, eventually leading to the signing of a memorandum between Valli Arunachalam and her sister, and the other members of the family. The memorandum outlines the agreed-upon arrangement and its implementation over the next 90 days.
Valli Arunachalam, a nuclear scientist based in New York, had been embroiled in a solo battle to secure a position on the board of Ambadi Investments. Her contention was that her uncles and cousin brothers had denied her the opportunity based on her gender. However, the family arrangement has now brought about a harmonious resolution to the conflicts that had arisen.
The family's statement on the matter highlights that the arrangement guarantees the settlement of all outstanding issues and expresses contentment over the amicable resolution. While the exact terms of the family arrangement remain confidential, the statement emphasizes that both factions have agreed to withdraw any legal proceedings against each other once all the stipulated steps within the family settlement have been fulfilled.
It's important to note that no publicly listed company within the Murugappa Group is party to the family arrangement. Additionally, the arrangement doesn't pertain to the management, control, or granting of special rights within these companies.
The dispute originated from Valli Arunachalam's father, MV Murugappan, who served as the executive chairman of the family business for over two decades until his passing in 2017. Valli had contested her uncles and cousins in a legal battle, asserting her rightful place within the business conglomerate.
Founded in 1900, the Chennai-based Murugappa Group operates 29 diverse businesses, including ten listed companies like Carborundum Universal, CG Power and Industrial Solutions, and Coromandel International. Valli Arunachalam expressed that during her father's lifetime, she and her family were well-versed in the company's operations and decision-making process. As the only female siblings in the family, her sister Vellachi and she have been navigating this legacy.
The development has been welcomed by experts like Makarand Joshi, founder of MMJC and Associates, a corporate compliance firm, who sees this settlement as a positive step from an investor's viewpoint. Joshi underscores the stability that such resolutions provide and highlights the benefits of family agreements over costly and uncertain legal processes.
This resolution not only closes the chapter on familial discord but also contributes to a sense of equilibrium within the Murugappa family as they continue to steer their diverse business ventures forward.
Sources By Agencies