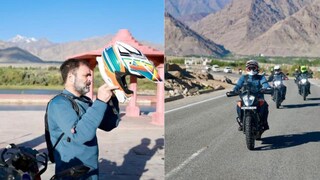 Congress leader Rahul Gandhi embarked on a bike ride to Pangong Lake in Ladakh as part of his tribute to his father and former Prime Minister Rajiv Gandhi on his upcoming birth anniversary, August 20. Sharing the picturesque journey through his official Instagram handle, Rahul Gandhi can be seen riding a KTM 390 Adventure, with fellow riders trailing behind. Dressed in full biking gear including a helmet, gloves, riding boots, and a jacket, he ventured through the scenic mountains of Ladakh.
The caption accompanying the Instagram post read, "On our way to Pangong lake, which my father used to say, is one of the most beautiful places in the world." The Ladakh tour, spanning till August 25, offers a unique opportunity for Rahul Gandhi to connect with the region and commemorate his father's legacy.
The KTM 390 Adventure, a powerful 373 cc bike, generates a maximum power of 43 bhp and a peak torque of 37 Nm. It boasts a top speed of around 170 kmph, making it an apt choice for the challenging terrains of Ladakh.
Earlier, Rahul Gandhi had shared his ownership of a "KTM 390" bike, although security concerns had prevented him from riding it. In a video shared on his YouTube channel, he had engaged with mechanics in Delhi's Karol Bagh market, demonstrating his interest in bike servicing.
This recent excursion isn't the first time Rahul Gandhi has embraced local culture during his visits. Earlier this month, he was captured dancing with members of the Toda tribal community in Muthunadu village near Ooty, Tamil Nadu, displaying a spirit of cultural inclusivity.
Sources By Agencies