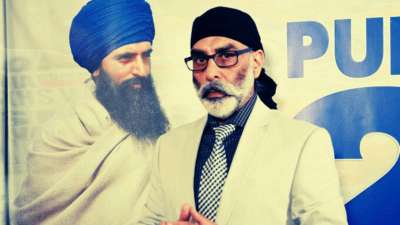 In a recent alarming development, Gurpatwant Singh Pannun, the founder of the banned organization Sikhs for Justice (SFJ), has released a video message threatening to disrupt Air India flights and urging Sikhs not to fly on or after November 19. Pannun alleges that Air India will not be permitted to operate on that day and claims that Delhi's Indira Gandhi International Airport may undergo a name change in support of Khalistan. This threat adds to an already strained relationship between India and Canada, where Pannun has previously issued threats and stirred controversy.
In the video message that has been circulating on social media, Pannun urged Sikh individuals to avoid flying with Air India after November 19, citing a looming "global blockade" that would target the airline. He went on to claim that Delhi's Indira Gandhi International Airport would be closed on the same day and its name changed to "Shahid Beant Singh, Shahid Satwant Singh Khalistan Airport" once Punjab is liberated.
Pannun's menacing message also included a reference to the ongoing Cricket World Cup, calling it the "World Terror Cup," and pointed out that the final match is scheduled for November 19. This threat is not the first issued by Pannun, who previously called on Hindu-Canadians to leave Canada amidst a diplomatic dispute between India and Canada following the killing of Khalistani terrorist Hardeep Singh Nijjar.
Following Pannun's hateful speech, Hindu Forum Canada's lawyers have petitioned the Canadian Immigration Minister, Mark Miller, to ban Pannun's entry into Canadian territory. The letter to Minister Miller emphasized the distress and trauma caused within the Hindu community and Canadian citizens at large due to Pannun's remarks.
The strained relations between India and Canada stem from Canadian Prime Minister Justin Trudeau's allegations of Indian government involvement in the killing of Nijjar in June. India has firmly rejected these allegations as "absurd and motivated," resulting in the expulsion of a Canadian diplomat as a tit-for-tat measure. To date, Canada has not provided any public evidence to substantiate its claims regarding the killing of Nijjar.
As tensions continue to simmer, the threats issued by Gurpatwant Singh Pannun raise concerns about the safety and security of air travel, emphasizing the need for increased vigilance and cooperation between the involved countries to counteract such threats and maintain peaceful international relations.
Sources By Agencies