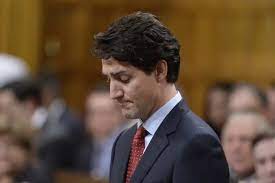 Canadian Prime Minister Justin Trudeau's visit to India for the Group of 20 (G20) Summit took an unexpected turn when his plane experienced technical difficulties, leaving him stranded for two days in New Delhi. While the aircraft issue was eventually resolved, it added another layer of complexity to Trudeau's already troubled trip.
Trudeau's departure from New Delhi was delayed until the technical problem with his aircraft was fixed, following a period of uncertainty. Reports indicated that a backup plane and spare parts were dispatched to India for the Prime Minister's return to Canada. The delay came amidst strained diplomatic relations between Canada and India, primarily regarding pro-Khalistan activities.
Prior to the plane glitch, Trudeau faced public criticism from Indian Prime Minister Narendra Modi, who expressed "strong concerns" over Canada's perceived allowance of "anti-India activities" by extremist elements, alluding to Khalistan. This criticism marked a further deterioration in India-Canada ties, with Canada suspending negotiations on a trade treaty with India as a result.
Political protests by Canada's Sikh population, particularly those supporting Khalistan, have been a contentious issue. A pro-Khalistan supporter, Hardeep Singh Nijjar, was shot dead in British Columbia in June, igniting protests in Toronto. Trudeau's national security adviser has also raised concerns about foreign interference in Canadian affairs, notably from India.
Trudeau and Modi did not hold a formal bilateral meeting during the G20 Summit, but they briefly discussed foreign interference and "respect for the rule of law." Trudeau emphasized Canada's commitment to freedom of expression and peaceful protest, but he also underscored the importance of distinguishing between the actions of a few and the broader Sikh community in Canada.
Back in Canada, Trudeau's travel delays sparked a debate about the state of the country's infrastructure, particularly the aging Airbus A310s used for official international trips. These aircraft, dating back to the 1980s, require refueling stops for long-haul journeys, causing further delays and inconveniences.
Trudeau's political opponent, Pierre Poilievre, leader of the Conservative Party, criticized the Prime Minister for airport mismanagement, drawing attention to flight delays imposed on Canadians. Poilievre hinted at potential political changes in the 2025 federal elections, as recent polls have shown the ruling Liberal Party trailing behind the Conservatives.
This trip is not the first time Trudeau faced challenges in India; his 2018 visit was marked by similar difficulties, including a lukewarm reception from Indian officials and Modi's absence during some key engagements.
Amidst these challenges, Trudeau chose to stay in his hotel room during the aircraft delay, with no official engagements on his schedule. While the situation remained fluid, Trudeau eventually departed for Canada, bringing an end to a trip marked by both political and logistical hurdles.
Sources By Agencies