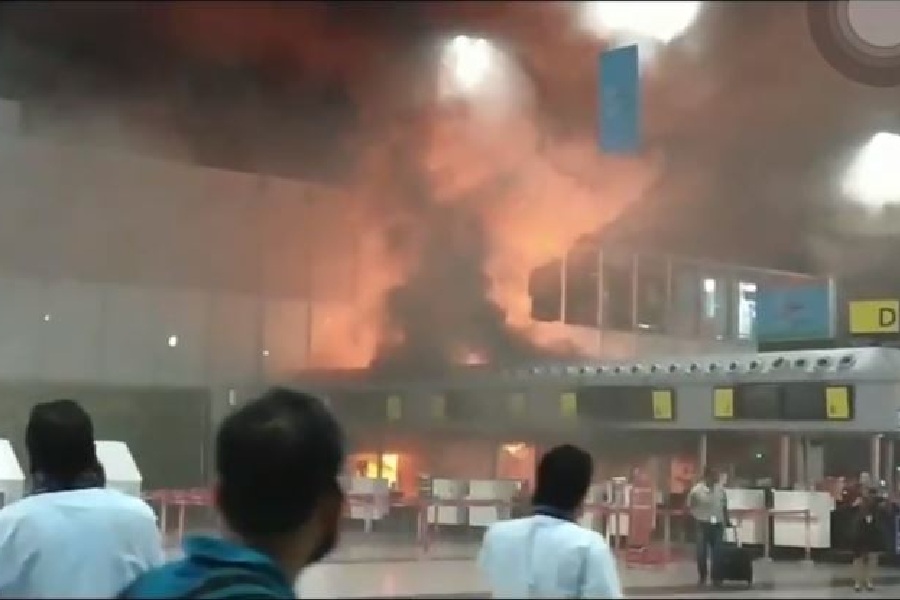 Kolkata's Netaji Subhas Chandra Bose International Airport witnessed a minor fire incident on Wednesday evening, causing a temporary disruption to its operations. Prompt action from the airport authorities and emergency services ensured the safety of all passengers and staff present at the scene.
At approximately 9:10 pm, a fire broke out at a check-in counter in the departure section of the airport. The affected area was identified as the D Portal, where passengers typically receive their boarding passes. The flames quickly spread to a portion of the nearby security checkpoint, creating a challenging situation for airport personnel.
Upon discovering the fire, the airport immediately implemented its emergency protocols. Three fire tenders were dispatched to the scene, and firefighters swiftly arrived to extinguish the blaze. By 9:40 pm, just half an hour after the fire's outbreak, the situation was successfully brought under control.
Thanks to the efficient response of the authorities and the orderly evacuation process, all passengers and airline crew members were safely escorted away from the affected areas. Thankfully, there were no reported injuries as a result of the incident.
As a precautionary measure, the check-in process was temporarily suspended due to the presence of smoke in the affected area. Passengers were directed to alternate locations within the airport premises, where they could await further instructions and updates.
Union Minister for Civil Aviation & Steel, Jyotiraditya M. Scindia, acknowledged the incident on Twitter and assured the public that the situation was under control. In his tweet, he stated that everyone had been evacuated safely, and no injuries were reported. He also confirmed that the check-in process resumed at 10:25 pm, allowing operations to gradually return to normal.
The exact cause of the fire is yet to be determined and will be investigated thoroughly by the authorities. Preliminary findings suggest that the fire originated at 9:12 pm, and it will be essential to identify the factors that contributed to the incident to prevent similar occurrences in the future.
Kolkata's Netaji Subhas Chandra Bose International Airport has taken the necessary steps to ensure the safety and well-being of its passengers and staff. The airport remains committed to maintaining its high standards of safety and security as investigations continue into this unfortunate incident.
Passengers are advised to stay updated through official airport channels for any further developments or changes to their travel plans.
Sources By Agencies